In addition, the Bank's good management ability will reduce the risks to loans from the Bank. Bank leaders who clearly see the strength and lending conditions of the Bank will know how to properly distribute loan resources to customers and appropriate loan terms. All will directly affect the quality of the Bank's lending activities.
d. Qualities and qualifications 
The quality of staff is a decisive factor for the success or failure of the Bank's business activities in general and lending activities in particular. This is because credit officers are directly involved in all stages of the credit process, from the first step to the last step.
Credit officers do not have professional ethics, work without a sense of responsibility, intentionally violate the law, which will affect credit quality. Professional qualifications also determine the success of credit operations.
The quality of the loan depends largely on the project appraisal stage before lending. Therefore, with a team of highly qualified and sensitive credit officers, the loan quality will be significantly improved.
e. Internal control
Through the internal control system, it helps the Bank's leaders understand the current business situation, detect advantages, difficulties and mistakes, and then propose timely solutions.
Credit quality depends on the observance of regulations, rules, policies and timely detection of errors as well as causes of deviations in the process of making a loan.
f. Promotion activities of the Bank
This activity is aimed at promoting the Bank's name in the financial and monetary market, helping customers know the bank better, thereby actively seeking to borrow from the Bank when needed as well as depositing money in the Bank. Through marketing and service network expansion, more and more customers will know about the Bank's services and expand lending activities. Thereby attracting more good customers with effective business plans for lending.
1.4.3.2. Group of factors belonging to borrowers
The customer is the person who makes the plan, the project applies for a loan and after being accepted by the Bank, the customer is the person who directly uses the loan to do business. Therefore, customers also affect credit quality.
a. Customer capacity
Weak customer capacity, reflected in the failure to predict the ups and downs of market demand; If you do not know much about the production, distribution and promotion of products, you will easily be defeated in the competition. This affects the Bank's ability to repay loans, leading to the credit quality being affected and vice versa.
b. Customer honesty
– If businesses that borrow money from the Bank do not provide honest data, violate the promulgated accounting and statistical regime, it will cause difficulties for the Bank in grasping the business situation, as well as the management manage customer loans to be able to make the right lending decisions.
– If customers use bank loans not for the right purposes when applying for loans, it is highly likely that the amount of capital will be used for high-risk purposes and will affect their ability to repay. Therefore, the honesty of customers greatly affects the credit quality of the Bank.
c. Risks in the customer's business
Risk is the result of objective or subjective factors affecting the Enterprise. But mainly there are objective factors that are not predicted by enterprises such as: natural disasters, fires, weak production capacity, changes in State policies or frauds and thefts.. This will affect have a significant impact on the Bank's ability to repay loans.
1.4.3.3. Group of factors belonging to objective conditions
– Economic environment
The economy is a system consisting of economic activities that have a dialectical relationship and are bound to each other, so any fluctuation of a certain economic activity will also affect production and business. of the remaining fields. The operation of a commercial bank can be considered as a bridge between different sectors of the economy. Therefore, the stability or volatility of the economy will have a strong impact on the Bank's operations – especially credit activities.
Macro-economic variables such as inflation and crisis will greatly affect credit quality. A stable economy with moderate inflation will facilitate high-quality credit. That is, businesses operating in a stable environment are likely to generate profits , from which they can pay capital and bank interest. On the contrary, when the economy fluctuates, businesses operate erratically, affecting their income, thereby affecting the Bank's ability to collect debts.
The economic cycle has a significant impact on lending activities. During the recession, production exceeded demand, leading to large inventories and difficulties in credit activities. Enterprises could not develop. Moreover, if the Bank ignores many credit principles, it will further reduce the credit quality.
On the contrary, in the flourishing period, the growth rate is high, businesses tend to expand their production and business, the credit demand increases and the risk is low, so the credit quality also increases. However, during this period, there were loans that exceeded the production scale as well as the customer's management ability, so these loans were still at risk.
The provisions of the law also affect the lending efficiency more or less.
Changes in regulations on collateral, provisioning, and lending subjects will affect loan quality.
– Cultural and social environment
Like lifestyle, habits.. also affect loan quality. For example, people with a high level of education and stable income often borrow from banks to satisfy their spending needs to improve their quality of life, rather than people with average living standards who usually only borrow from banks to pay their bills. meet necessary needs.
– Natural environment
Force majeure changes occurring in the natural environment such as natural disasters, fires, etc., affect the production and business activities of customers, especially in industries related to agriculture and fisheries. produce, seafood. Therefore, when the natural environment is not favorable, enterprises will face difficulties, thereby reducing the credit quality of commercial banks.
The above are the main factors affecting the credit quality of commercial banks. In order to improve the quality of loans, we need to study and properly perceive the above factors, along with the actual performance of commercial banks, from which to come up with highly feasible remedial measures. .
1.4.4. The need to improve the quality of short-term SME loans
Short-term lending is the key for investors to raise the large amount of capital needed in a short period of time to meet working capital. Improving the quality of short-term loans is the concern of customers and the goal of the Banks.
– For Commercial Banks
Choosing a business plan to invest its short-term loans in to improve the quality of short-term loans will help the Bank gain many advantages:
– First, reputation in business: The bank will find large and diversified capital sources. Depositors will be really assured and satisfied with their money when deposited in the Bank, always ensuring the recovery of principal and interest.
Secondly, the high quality of the loan is a condition that helps the Bank preserve capital, recover both principal and interest, the Bank will not have to use the risk reserve fund to compensate for the loss of capital and interest. or both, that helps the Bank's profits increase, maintaining solvency. 
– Third, improving the quality of short-term SME lending will help the Bank create long-term relationships with SMEs. In particular, making the Bank's screening and supervision process more advanced and less expensive while still ensuring credit principles.
– For SMEs
Currently, although each country is different, it has different characteristics and levels of development; SMEs in other countries also have certain limitations, etc., but it is undeniable that SMEs in the current period always play an important role in socio-economic development, creating many jobs. employment, increase income, contribute to reduce unemployment rate, expand industries, increase export turnover, significantly contribute to increase annual budget revenue… Therefore, the existence and development of SMEs in the economy of other countries in general or Vietnam in particular is an objective and necessary necessity in the national development process.
Thus, the role of SMEs in promoting national socio-economic growth is undeniable. However, these enterprises are currently facing many obstacles and difficulties that limit their development.
The lack of business capital above forces SMEs to get funding to overcome difficulties and develop. However, for SMEs, the settlement of capital needs in general and short-term capital in particular is mainly based on the non-financial market or on relatives and friends… with little access to major credit sources. knowledge through credit institutions (CIs). However, the mobilization from friends, although the interest rate is low, may be zero, but the mobilization amount is small, irregular and continuous; Through non-financial institutions, the interest rate is very high (maybe 3%-6%/month), must have collateral, secured mortgage but can only borrow a small percentage of the value of that property. . The mobilization from banks and credit institutions is the most optimal form with negotiable, reasonable, highly stable interest rate policy, large loan volume…
2. CHAPTER 2: ASSESSMENT OF QUALITY OF SHORT-TERM LIVING ACTIVITIES FOR SMALL AND SMALL ENTERPRISES AT BANK FOR INVESTMENT AND DEVELOPMENT OF VIETNAM – QUANG TRI BRANCH
2.1. About Bank for Investment and Development of Vietnam – Quang Tri Branch
2.1.1. The process of formation and development
Table 2.1: Introduction of Bank for Investment and Development of Vietnam
| | |
| --- | --- |
| Trading name | Bank for Investment and Development of Vietnam |
| Abbreviations | BIDV |
| International name | Bank for Investment and Development of Vietnam |
| Logo | . |
| Slogan | Sharing opportunities – successful cooperation |
| Headquarters | BIDV Tower, 35 Hang Voi, Hoan Kiem, Hanoi |
| Website | http://bidv.com.vn |
Maybe you are interested!
On April 26, 1957, the Prime Minister signed Decree No. 177/TTg establishing the Vietnam Construction Bank, under the Ministry of Finance (the predecessor of the Bank for Investment and Development of Vietnam today). In order to meet the historical requirements of each period of the country, Vietnam Construction Bank is continuously improved and renamed.
On April 36, 1981, the name was changed to Vietnam Construction and Investment Bank, under the State Bank of Vietnam.
On November 14, 1990, the name was changed to Bank for Investment and Development of Vietnam.
From January 1, 1995, the task of allocating capital and giving preferential loans according to the State's plan was transferred to the Department of Investment and Development, from which the Bank for Investment and Development of Vietnam operated and did business. business in the field of money, credit, banking and non-banking services as a commercial bank.
Along with the general development of the whole industry, Quang Tri Bank for Investment and Development Branch, a member unit of the Bank for Investment and Development of Vietnam, was established in February 1961, formerly the department Representative of Kien Thiet Bank in Vinh Linh area.
After Quang Tri was liberated, in April 1973, the Basic Construction Department was established under the Quang Tri Financial Company. In July 1975, Quang Tri Kien Thiet Branch was established. In June 1976, it was merged into Kien Thiet Binh Tri Thien Branch.
In 1989, along with the division of Binh Tri Thien province into three provinces: Quang Binh, Quang Tri and Thua Thien Hue, Quang Tri Construction and Investment Bank Branch was established, in 1990 changed its name to a branch. Bank for Investment and Development of Quang Tri. Head office: No. 24 Hung Vuong, Dong Ha City, Quang Tri. Business registration license: No. 304811 issued on 07/03/1994.
2.1.2. Head office and transaction office system
With many years of existence and development, Bank for Investment and Development of Vietnam – Quang Tri Branch (BIDV Quang Tri) has affirmed its name and position. Up to now, Bank for Investment and Development of Vietnam – Quang Tri Branch has 1 head office and 3 transaction offices in Quang Tri province: Dong Ha Transaction Office, Vinh Linh Transaction Office, Nam Dong Transaction Office River.
Table 2.2: Head office and 3 transaction offices of BIDV Quang Tri
Number
Name
Address Phone
1
Quang Tri Branch
No. 24 Hung Vuong 053.3552191
2
Dong Ha Transaction Office
No. 75, Le Duan Street, Dong Ha City, Province 053.385015
Quang Tri
3
Vinh Linh Transaction Office
Huu Nghi Hamlet, Ho Xa Town 053.3623623
4
Nam Dong Transaction Office
No. 62, Ly Thuong Kiet Street, Dong Ward
Evaluation of the head office and transaction office of Bank for Investment and Development of Vietnam – Quang Tri Branch:
The number of transaction offices as above is relatively small for a province with many potential areas for exploitation like Quang Tri Province. For example, Lao Bao trade center or Quang Tri town is the place where many businesses have relationships with the Branch and this is also the meeting place for businesses. Branches should consider expanding the network of transaction offices to improve service quality, promote their strengths in creating convenience for customers and attract customers to the bank.
2.1.3. Organizational structure
2.1.3.1. Functions and duties of the Board of Directors
The entire operation of BIDV Quang Tri is divided into 4 blocks: Credit Division, Support Division, Service Division and Subsidiary Division. The Head of the Branch is the Director who is mainly responsible for all activities of the Branch, assisting the Director with 3 Deputy Directors, the Deputy Directors are responsible for directing the activities of the departments in each division. .
Director: Directing the general management of all activities of the Branch, directly dealing with arising problems in finance and accounting, internal inspection, personnel organization, training, main security. internal governance, anti-corruption… Head of Mortgage Valuation Committee, Bad Debt Handling Committee… Chairman of Credit Council, Debt Settlement Council, Scientific Council, Salary Raiser Council, Council asset sale, emulation and commendation council… – Deputy Director 1: Directly direct, administer and handle arising tasks related to work aspects such as appraisal, computing, administration , regular repair of the Branch. Deputy Head of Mortgage Valuation Committee, Bad Debt Handling Committee, etc. Vice Chairman of Credit Council, Debt Settlement Council, Scientific Council, Salary Raiser Council, Asset Sale Council,Emulation and Commendation Council… Deputy Director directly directs and administers all activities of the Branch in case the Director is absent.
– Deputy Director 2: Directly direct and handle arising tasks related to short, medium and long term credit, guarantee; capital plan.
– Deputy Director 3: Directing, operating and directly dealing with arising tasks of the Service Division. including services, cash funds at 03 transaction offices; Regulatory regulations, marketing channel focal point in banking activities, organization of professional training, implementation of learning regime documents for employees in the branch.
2.1.3.2. Functions and duties of departments
– Customer Relations Departments (Including: Customer Relations Department 1 and Customer Relations Department 2) Directly perform credit operations according to the assigned scope in accordance with the law and credit processes (continued) marketing, searching for customers, projects, introducing products, analyzing information; receiving dossiers, considering lending decisions according to authorization decentralization or submitting to competent authorities for decisions on loans and guarantees; explain disbursement, manage, check the use of loans, monitor debt collection, interest until settlement of credit contracts) for each customer.
The focal point to advise and propose to the Branch Director, to develop documents guiding policies, develop customers, and credit processes in accordance with the conditions of the Branch, to propose a credit limit for each customer. , classifying customers, determining loan collateral (legality, valuation, marketability). Credit marketing: including establishing, expanding, developing customer system, introducing and selling credit products and services to customers, comprehensive care, receiving requests and feedbacks from customers. row; Coordinate with related departments, propose solutions to the Director to meet customer satisfaction.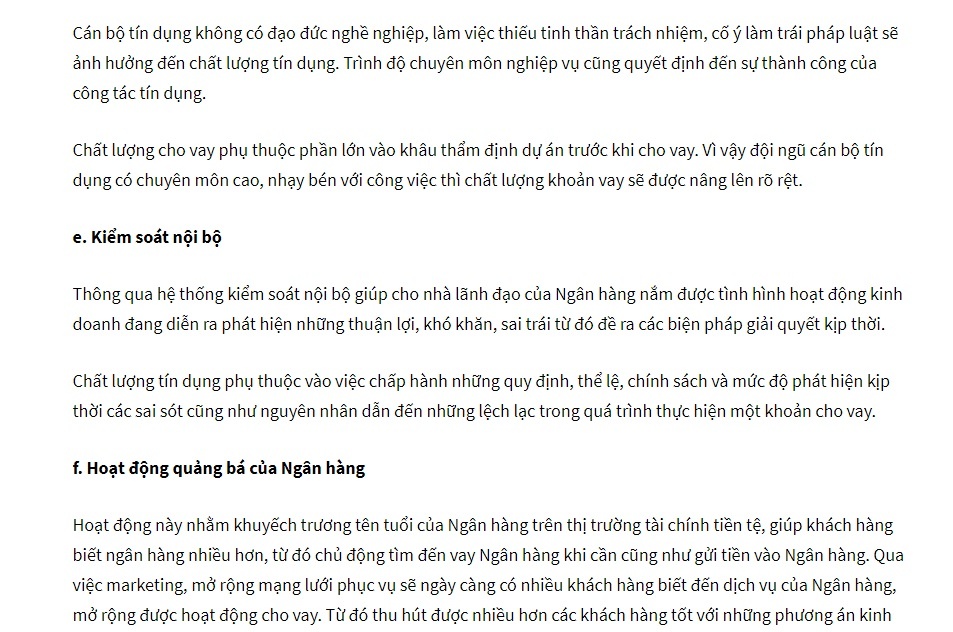 Advising customers on credit products, services and other related matters.
Manage (complete, supplement, preserve, store, exploit, etc.) credit files according to regulations; synthesize, analyze, manage (collect, store, secure, provide) information and make reports on credit activities within the scope of the assigned department.
Coordinate with other departments according to Credit Process. – Credit Administration Department Collect, provide information and evaluate economic and technical indicators. Appraisal of loan projects, guarantees (medium and long term) and short-term credits beyond the judgment of the Credit Managers. Giving opinions on credit granting decisions for medium and long-term projects and short-term credits beyond the judgment of the Credit Manager…
– Accounting – Finance Department
Organize the implementation and inspection of detailed accounting, general accounting and accounting reporting regimes, monitor and manage assets, capital and funds of the Branch in accordance with the regulations of the State and the Bank. row. Perform post-audit work for all financial and accounting activities of the Branch according to the process of rotation and control of accounting documents and books in accordance with the State's regulations, take responsibility for the accuracy and timeliness of accounting records. Timeliness, reasonableness, truthfulness of data…
– Organization and Administration
Directly implement the salary regime, insurance regime, labor management; monitor the implementation of labor regulations and collective labor agreements; Monitor the implementation of training plans and resource development plans to ensure the development needs of the Branch in accordance with regulations…
Date published: 01/11/2021