2.6.2 Sales promotion.
2.6.2.1. Concept.
Promotion can be understood as any activity that creates an incentive to buy a product in addition to the inherent benefits of the product. Promotions are often used by banks to encourage customers to first try or continue using a particular banking service, whether it is a new service or an improved service.
As part of the overall marketing strategy, promotion is not a substitute for other promotional elements. The decision to use promotion and choose the form of promotion depends on many factors such as: The stage in the service life cycle, competitor activities on the service, the strategy of the bank.
2.6.2.2. Objectives and tools of sales promotion.
The manufacturer's primary goal of sales promotion is to create brand preference in the minds of consumers, to create confusion and entice new customers, to increase the urge to buy to consumers. end use (Blattberg & Neslin 1990).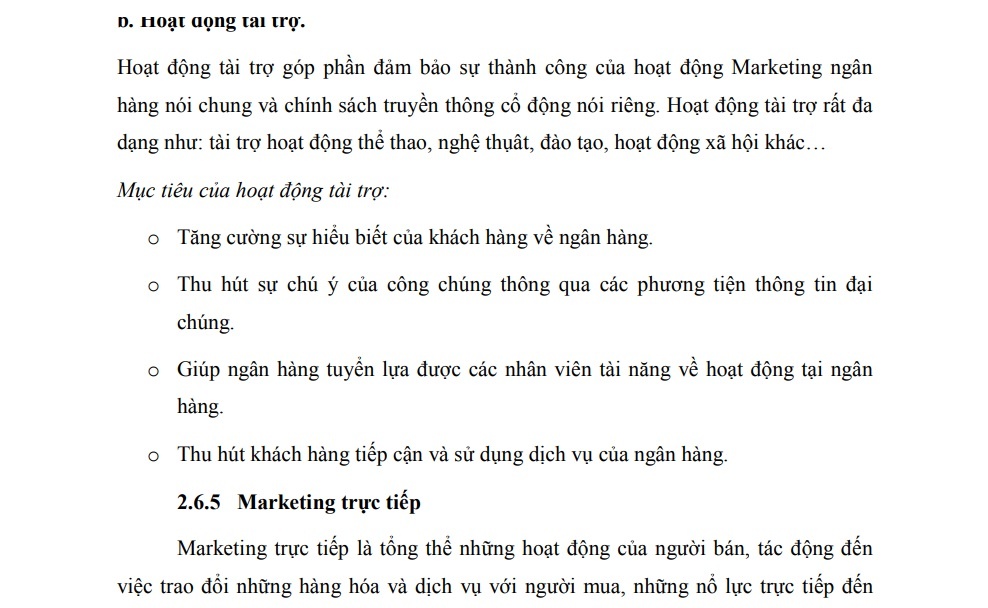 Objectives and factors that depend on promotion objectives
Target market
Cash promotion
 
Merchandise promotion
 
Service promotion
 
 
Live
Indirect
Live
Indirect
Live
Indirect
People
pepper
use
Reduce price
Transport
goods
Main
book okay
determined
Voucher
bonus
Presently object
Goods
exempt fee
Gift donate
Stamps
bonus
goods
Voucher
buy
row
Bao
onion
Tham
family sentence
lost set
Exhibition
display and
develop exhibition
Close
package
Advertisement
fox
Stamps
bonus,
votes
bonus,
chemical single
for
Translate service
House
feces
mix
 
Drag long
credit use
Voucher
buying goods
time later
Bonus
equal show
object similar
equivalent
money
Goods
exempt fee,
row sample
Bonus
love
trade
Voucher
donate
goods
Gifts
similar
equivalent
money
Bao
onion
Pandemic service
exempt fee
Exhibition
exhibition,
show
display
Stamps,
votes
for
Translate service
Force
quantity
sell
row
Money
bonus
Flowers
pink
Voucher
bonus
Things
similar
equivalent
money
Goods
exempt fee
Voucher
bonus
Generation system
feces
mix
Pandemic service
exempt fee
Tham
family sentence
lost the set
Stamps,
votes
okay
Translate service
Maybe you are interested!
2.6.2.3. Build promotions.
We must not only decide how to promote, by what, but also about the size of the stimulus, the duration of the promotion or the means and budget of the promotion.
Stimulus size: is the limit for successful promotion implementation. The more stimulation, the more sales increase, but at a decreasing rate.
Promotion period: is the period of time to carry out the promotion, this time must be long enough for the promotion to be effective, if it is too short many future customers will not be able to participate. If it is too long, the program will gradually lose its "do it now" motivation.
Funding for the promotion: can be based on the size of the stimulus or a specified percentage of the total budget for communication activities.
2.6.2.4. Evaluate promotional effectiveness.
The most common assessment method is to compare sales before, during, and after the promotion.
2.6.3 Direct sales.
2.6.3.1. Concept.
Direct selling is a highly selective form of direct communication that allows marketers to deliver persuasive messages to the specific needs of individual buyers or influencers. .
Thus direct selling is highly selective communication to a defined audience and it is suitable for items of high interest and purchase in bulk.
2.6.3.2. The role of direct selling.
The role of direct selling depends on a number of factors in the market environment – the product as well as the characteristics of the bank itself. With traditional services derived from people, the direct banker is the person performing the service, making direct sales promotion proved effective in many cases. With services derived from machines, in many cases the role of direct selling is not small.
For businesses in general, in order to promote the effectiveness of direct sales, there are many issues to be concerned about, especially for banking services, the training of bank staff in skills and professional understanding. Service is the most important thing.
2.6.3.3. Direct sales forms.
a. Customer Conference:
It is an effective means of disseminating information and stimulating further efforts. Usually customer conferences are usually held for wholesale customers and the company's sales force.
+ Sales conference for wholesalers.
Sales conferences of intermediate distributors are also an important promotional tool, especially during the sales season. It is usually organized by region, having the same purpose as the sales conferences of the company's sales force, that is, to provide information, increase motivation.
+ The company's sales force conference.
Sales force conferences have two primary goals: stimulating salespeople to achieve better performance and communicating new issues, updates on new products, plans, promotions and work procedures.
b. Display and demonstration of products at the place of sale:
Is a useful form of communication today when advertising is too much.
c. Trade fairs:
Participating in fairs for the purpose of promoting products and companies, finding new sales lines, meeting new customers and delivering goods to existing customers.
2.6.4 Public Relations.
2.6.4.1. Concept.
The public is any group of people that have an actual or potential interest or influence in a company's ability to achieve its goals.
Public relations is the identification, establishment, and maintenance of reciprocal relationships between a business and public opinion. Because the public can create advantages or disadvantages for businesses. To gain public support, businesses need to make the public more aware of their activities, the benefits they bring to the public, and the general social benefits to create. good image of the business, dealing with rumors, stimulating the sales force and other sales intermediaries for the company.
2.6.4.2. Basic public relations activities.
a. Communication activities
These are direct transactions made between bank staff and customers through meetings, dialogues, phone calls, etc.
Through communication, it enables banks to achieve goals such as:
Improve the bank's reputation and image.
Maintain customer loyalty, create conditions for customers to access and use the bank's services.
Collect market information.
Create opportunities to expand market share.
In order to communicate effectively, bank employees must:
Identify the needs and desires of customers, especially potential customers.
Bank staff must have professional qualifications, know how to explain and encourage customers to access and use services.
Propagating the bank's activities in society in the following forms:
Lectures by bank leaders.
Organize seminars by topic.
Publications, leaflets.
Participate in charity activities.
Articles in newspapers, magazines, etc.
b. Sponsorship activities.
Sponsorship activities contribute to ensuring the success of banking marketing activities in general and promotional communication policies in particular. Sponsorship activities are very diverse such as sponsoring sports, art, training, other social activities…
Sponsorship goals:
Enhance customers' understanding of the bank.
Attracting public attention through mass media.
Help the bank to select talented staff for operations at the bank.
Attract customers to access and use the bank's services.
2.6.5 Direct Marketing
Direct marketing is the sum total of activities of sellers, affecting the exchange of goods and services with buyers, efforts directly to target customers, using one or more media. (direct sales, direct mail, telemarketing, direct advertising, catalog sales, cable sales, etc.) intended to attract a response by phone, mail, or visit individuals from prospective or current customers.
Link marketing directly with advertising. In addition to mail, print, or television. It usually includes a toll-free number or form that requires mail information. Sometimes advertising also supports direct selling efforts. Direct advertisements or references are displayed in retail stores. Sometimes an advertisement is sent through direct mail.
Link direct marketing and PR. Private companies can use telemarketing to attract philanthropic financing or philanthropic partnerships. Similarly, corporations or organizations may have a PR activity that may include toll-free telephone numbers or website links in their advertisements or promotional materials. Direct mail also shows an impact on employee hiring.
Associate direct marketing with personal selling. Telemarketing and direct selling are two methods of personal selling. Non-profit organizations like charities often use telemarketing to attract funding. Profit organizations also use telemarketing more often to inform and articulate the vision (to reduce sales costs) and provide guidance.
Link marketing directly with sales promotion (promotion). Send email templates directly to inform customers about sales promotion programs or events or invite customers to attend seminars. In fact, sales promotion can support direct marketing efforts. Databases are often built from names and addresses obtained from promoters, and direct mail or telemarketing calls.
Combine Direct Marketing with supporting means. Promotional products through direct mail have increased response rates.
To successfully implement a direct marketing program, companies must make a number of decisions. In Marketing programs, they must determine: (1) What are the goals of the programs?, (2) Which markets are targeted (through the use of a list or database). marketing data ), (3) Which direct marketing strategy is used? and (4) How to estimate the effectiveness of these programs?
3. Evaluation of the communication process.
After the message has been communicated to the target audience, it is necessary to evaluate the effectiveness of that implementation. Common evaluation criteria are:
+ Compare sales before, during and after implementing this communication program.
+ Measure the number of audiences who remember the message, know about the product, like the product, how they tell others about the product, etc., based on the results of the survey through the questionnaire or the follow-up process. Monitor customer satisfaction at headquarters and branches.
PART II: BUSINESS ACTUAL REPORT
I. Brief history of formation and development of Hai Chau Bank for Agriculture and Rural Development.
Branch of Hai Chau Bank for Agriculture and Rural Development (Hai Chau Bank for Agriculture and Rural Development) is located at 107 Phan Chu Trinh, Hai Chau District, Da Nang City.
As a dependent accounting unit of the State Bank of Agriculture and Rural Development's system, the operation of Hai Chau branch of the State Bank of Agriculture and Rural Development is assessed on the scale of 1; large type of the State Bank of Agriculture and Rural Development system in Da Nang.
Since its inception and development up to now, the operation process of Hai Chau State Bank of Agriculture and Rural Development branch can be assessed through a number of specific milestones as follows:
During the transition from a centralized planning mechanism to a market mechanism regulated by the State (the single-tier bank model performs both management and business functions to a new one-tier banking model). 2 levels to separate management functions and business functions):
Date 01/01/1988 of the State Bank of Vietnam For/v: Establishment of Agricultural Bank of Quang Nam – Da Nang province and then established bank branches in cities, districts and towns.
Date published: 01/11/2021