2.3.2 Credit banking services:
For corporate customers: Navibank provides lending services
Very diverse with the following types:
– Loan to supplement working capital
– Financing the import of goods and raw materials
– Financing the production and processing of export goods
– Loans to invest in factories, warehouses and offices.
– Loans to invest in fixed assets
– Loans for implementation of housing projects, residential land
Maybe you are interested!
– Credit products for car businesses
– Car loans for transport businesses
– Ship investment loans for shipping enterprises
– Overdraft deposit account
– Discount on export documents
– Bank guarantee.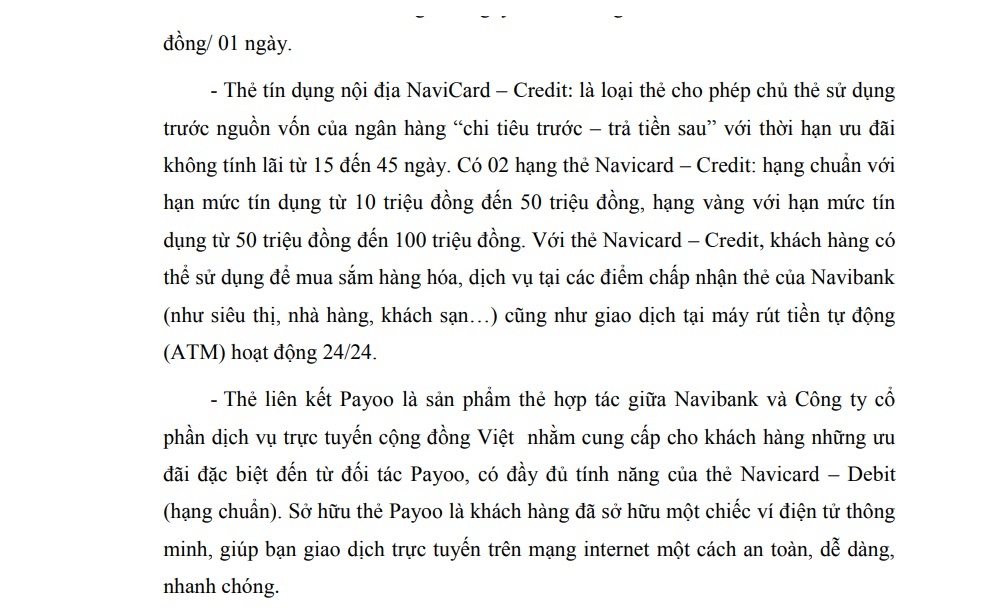 For individual customers: Navibank provides services such as:
– Loans to buy houses and residential land: maximum loan amount of 80% of customer's loan needs, maximum loan term of 20 years.
– Loan for home repair: if the loan demand is less than or equal to VND 500 million, the maximum loan amount / loan demand is 100%. If the loan demand is more than 500 million VND, the maximum loan amount/demand is 80%. Maximum loan term is 5 years.
– Short-term loans to supplement capital for production: for individual customers who have registered as household businesses in the group of manufacturing industries such as handicrafts, foodstuffs, consumer goods, materials. construction materials, garment processing. The loan amount is from VND 100 million to VND 2 billion, the loan term can be up to 36 months.
– Loans for life: maximum loan of 500 million VND (for individual customers residing in Hanoi, Ho Chi Minh City, Da Nang, Hai Phong, Can Tho), maximum 300 million VND ( for the remaining provinces/cities) but not exceeding 60% of the collateral value. Maximum loan term is 3 years.
– Study abroad loans: support study abroad costs such as tuition fees, living expenses … or provide services to prove financial ability to study abroad. The maximum loan amount is 100% of the tuition fee (according to the notice of tuition payment), up to 15,000 USD/year in living expenses. Maximum loan term is 5 years.
– Loans for mortgage of savings books and certificates of deposit: maximum loan amount of 95% of the value of deposits used as collateral. The loan term is according to the actual needs of the customer but must not exceed 12 months.
– Short-term loans to supplement working capital for trade.
– Loans to build houses
– Car loan.
2.3.3 Payment and treasury banking services
– Domestic money transfer: meeting the needs of customers to transfer money to relatives, friends, business partners, … of customers anywhere in the territory of Vietnam quickly, conveniently and safely, with Very competitive service fees.
– Remittance abroad: to support customers to transfer foreign currency abroad to use for the purposes of medical examination and treatment, study abroad, work, travel, payment for goods. The money transfer is carried out for lawful purposes and in compliance with the regulations on foreign exchange management of the State Bank
– Service of receiving money without having an account at Navibank
– Western Union service: helps customers receive money transfers from abroad in just a few minutes.
– International payment service: T/T wire transfer, import/export credit, import/export letter of credit.
– Foreign currency exchange service: provide customers who need to exchange foreign currency for VND
– Payroll service: making deductions from customers' accounts to pay salaries for customers' employees.
– Cash collection and payment service: Navibank collects and spends cash on behalf of customers at locations designated by customers.
– Telephone charge collection service: customers can go to any Navibank transaction point to pay mobile phone bills.
– Storing valuable papers and precious metals: helping customers to store assets at Navibank's safes safely and conveniently.
2.3.4 Banking services on foreign exchange:
Comply with the provisions of Circular 03/2008/TT – NHNN dated 11/08/2008 on providing foreign exchange services of credit institutions. Currently, Navibank is providing spot exchange (spot), foreign exchange forward (Forward) and foreign currency swap (Swap) services.
2.3.5 Modern banking services
2.3.5.1 Electronic banking services (e-banking)
– Internet banking: with Navibank's internet banking service, through connecting to the internet, accessing www.navibank.com.vn, customers can track information related to deposit accounts, loans, transaction statement, update information on exchange rate, interest rate, transaction network of Navibank, transfer money for payment inside and outside Navibank system.
– Mobile banking: is a service where Navibank provides account information and other information in the form of text messages sent to customers' phone subscribers via mobile phone network. In addition, mobile banking also provides an automatic notification service of balance changes by phone when an account arises so that customers can manage their accounts remotely.
– Phone banking: is a service channel that provides customers with automatic information related to Navibank's products and services such as information about interest rates, exchange rates, information about promotions, information customer's account,… through the customer's landline or mobile phone. With this service, customers can query the information they are interested in from anywhere without having to go directly to the bank. Navibank's phone banking service is an automatic answering service that works 24/7, customers do not have to pay any fees to Navibank.
– Vntopup service: is a service to recharge mobile phone accounts via text message with the amount deducted directly from customers' accounts at Navibank. With this service, customers can actively recharge their phones anytime, anywhere and still enjoy the benefits and promotions such as top-up via scratch cards.
– Online payment service – Ecom (launched from December 19, 2011): customers can use Navicard cards to make online payment transactions on many e-commerce websites. Currently, the list of sales websites associated with Navibank reaches about 47 business units in aviation, telecommunications, media, entertainment, tourism…
2.3.5.2 Card banking services:
– Domestic debit card issued by Navibank NaviCard – Debit is a non-cash payment method. Customers can connect to their accounts opened at Navibank anytime, anywhere to make transactions at automatic teller machines (ATMs), serving 24/24. Customers can not only make transactions at Navibank's ATMs, but also at all ATMs of Banknet, VNBC and Smartlink systems nationwide without paying any fees. Currently, Navibank is issuing 02 types of Navicard – debit card, which is a standard card with a withdrawal limit of VND 20 million/day and a gold card with a withdrawal limit of VND 30 million/day.
– NaviCard – Credit domestic credit card: is a card that allows cardholders to use the bank's capital in advance "spend first – pay later" with a preferential period without interest from 15 to 45 days. There are 02 classes of Navicard – Credit cards: standard class with credit limit from 10 million VND to 50 million VND, gold class with credit limit from 50 million VND to 100 million VND. With Navicard – Credit card, customers can use it to purchase goods and services at Navibank's card-accepting points (such as supermarkets, restaurants, hotels…) as well as make transactions at automatic teller machines. (ATM) operates 24/7.
– Payoo affiliate card is a card product of cooperation between Navibank and Vietnamese Community Online Services Joint Stock Company to provide customers with special offers from Payoo partner, with full features of Navicard card. – Debit (standard class). Owning a Payoo card is a customer who already owns a smart electronic wallet, which helps you make online transactions on the internet safely, easily and quickly.
2.4 Evaluate the level of development of banking services through SWOT analysis at Navibank.
2.4.1 Strengths
Compared with foreign banks investing in Vietnam: that is the home field advantage. In the process of integrating into the world economy, there will be many foreign financial and banking groups investing in Vietnam. However, it takes a long time for foreign banks to enter Vietnam to fully grasp the business practices and business culture of Vietnamese people, so this is also an advantage of Vietnamese banks. in general and Navibank in particular.
Young staff, formally trained, ready to absorb new knowledge
There are conditions to develop customers in industrial zones invested by the bank's shareholders
Strategic shareholders have strong financial potential.
2.4.2 Weaknesses
The research and development of new products and services has not been properly invested and is not suitable with the operational scale of the bank. There is no independent pricing policy, but mainly based on the price adjustment of competitors in the market.
Market research has not been paid enough attention to segment and choose the right market, leading to limited customer care policies.
The operating network is still small and not widespread: mainly concentrated in big cities and provinces, so it has not fully exploited the deposit sources in the population, and has not been able to bring Navibank banking services to customers far from the operating area. .
Management and administration capacity is still inadequate: the current way of organizing, managing, assigning and assigning tasks is not scientific, causing overlapping and waste of human resources. At the same time, the way to handle the incident is still spontaneous, resolved immediately when it arises, so there is no initiative to cause difficulties in business activities.
The information technology system has not been perfected, leading to time constraints in service provision.
Products and services are not diversified, most of them are traditional.
The brand is still not widely available.
2.4.3 Opportunity
Vietnam has a population of about 88 million people, but the number of people using banking services is still small, mainly concentrated in big cities and provinces. Therefore, in the future, the Vietnamese market still has many opportunities to exploit, especially the potential of capital in the population.
The psychology of people preferring transactions with domestic banks is also a favorable factor for domestic banks compared to foreign banks.
The State Bank of Vietnam always strictly controls and has appropriate guidelines and orientations for the operation of Vietnamese banks in terms of financial capacity, safety in banking activities, credit policies, interest rates. .
The strong development of information technology creates the basis for the development of banking services.
People's intellectual level is increasing, more and more people are learning and needing to use modern banking services.
2.4.4 Challenges
People's habit of using cash in payment is still hindering the development of e-banking services, card…
The competitiveness of domestic banks is still limited compared to foreign banks in terms of capital size, technology, management skills and risk management.
Brain drain and the problem of attracting high-quality human resources are the top challenges today.
Restricting the expansion of the network will make it difficult for banks to increase market share.
Economic recession and loss-making businesses are also significant challenges for the banking industry.
Date published: 01/11/2021