Solutions to limit bad debt in real estate lending at Joint Stock Commercial Bank for Investment and Development - 5
+ Insurance: providing suitable designed non-life insurance products in the overall package of BIDV 's products to customers.
+ Securities: providing a wide range of brokerage, investment and investment consulting services with the ability to rapidly develop a nationwide system of order-taking agents.
+ Financial investment: contributing capital to establish businesses to invest in projects, in which the prominent role is the leading and coordinating role of key projects of the country such as: Aviation Leasing Joint Stock Company (VALC) ) Expressway Development Company (BEDC), Investment in Long Thanh International Airport… – BIDV has abundant, dynamic and highly specialized human resources with more than 18,000 officers and employees who are investment professionals. Well-trained, experienced financial advisors accumulated and transferred for more than half a century BIDV always brings customers benefits and trust.
– Banking network: BIDV has 117 branches and over 551 network points, 1,300 ATM/POS in 63 provinces/cities nationwide and a number of branches in foreign countries: Laos, Cambodia, Myanmar, Russia, Czech… Joint ventures with foreign partners: VID-Public Joint Venture Bank (Malaysian partner), Laos-Vietnam Joint Venture Bank (with Laos partner) Vietnam-Russia Joint Venture Bank – VRB (with Russian partner), Company BIDV Tower Joint Venture (Singapore partner), BIDV – Vietnam Partners Investment Management Joint Venture (US partner)… In addition, BIDV has a non-banking network of Investment Securities Companies (BSCs), Financial Leasing Company, Investment Insurance Company (BIC) with 20 branches nationwide.
– BIDV regularly innovates, updates and applies technology to effectively serve the management and development of advanced banking services. Continuously from 2007 until now, BIDV has held the top position in Vietnam ICT Index (index of readiness for information technology development and application) and in the TOP 10 typical CIOs (Information Technology leaders) of Vietnam. Indochina Region in 2009 and Southeast Asia Region in 2010.
– BIDV provides the highest quality and most convenient banking products and services and is ultimately responsible for the products and services provided to customers. For strategic partners, BIDV is ready to "Share opportunities, cooperate successfully".
BIDV always considers people as the decisive factor for all success according to the motto "each BIDV employee is a competitive advantage" in terms of both professional competence and ethical qualities.
– BIDV has the largest corporate customer base in the system of credit institutions in Vietnam, including large corporations and corporations; of businesses small and medium . Millions of individual customers have been using BIDV's services.
– Financial institutions: BIDV is a reliable choice of large institutions such as World Bank, ADB, JBIC, NIB… – BIDV brand: is the choice and trust of economic organizations and businesses and individuals in accessing banking and financial services, is known and recognized by the domestic and international community as one of the largest banking brands in Vietnam, the pride of generations. Employees and of the banking and finance industry in the past 55 years with traditional occupations serving investment and development of the country.
Maybe you are interested!
2.1.2 About BIDV Quang Trung branch
2.1.2.1 The process of formation and development of BIDV Quang Trung
Bank for Investment and Development of Vietnam BIDV – Quang Trung branch formerly known as Transaction Office 1 – Bank for Investment and Development of Vietnam was established under Notice No. 57/TCCB/DT dated 26/12/ 1990 of the Department of State Personnel Organization on the organization of the Bank for Investment and Development of Vietnam and Decision No. 76 QD/TCCB dated March 28, 1991 of the General Director of the Bank for Investment and Development of Vietnam. Male.
Quang Trung Branch was established on the basis of separating Quang Trung Transaction Office according to the establishment decision No. 52/2005/QD-HĐQT dated March 21, 2005 of the Board of Directors of Bank for Investment and Development of Vietnam, Business license number 0116000466 of Hanoi Department of Planning and Investment, branch came into operation on April 1, 2005. Branch of Quang Trung Bank for Investment and Development, located at Chingfong building, 53 Quang Trung, Hanoi, is the 76th level I branch of BIDV, established on August 25, 2005. Purpose of establishment branch is to meet the increasing demand for banking services of customers in the area.
In recent years, BIDV has actively implemented network development, especially in key economic areas such as Hanoi, Ho Chi Minh City, Hai Phong, Da Nang… The establishment of BIDV Quang branch Central is also one of the important contents of BIDV's banking restructuring project. At this time, the initial staff of BIDV Quang Trung was 66 people, the organizational structure included the branch office, 01 transaction office and 02 savings funds. BIDV Quang Trung became a branch operating under the retail banking model, providing versatile banking products and services on the basis of modern technology to satisfy customers' demand for highly convenient banking products and services. customers in the system of branches of BIDV Vietnam. The main task of BIDV Quang Trung is to provide service capital for the private sector,small and medium enterprises. In the future, BIDV Quang Trung will move to become one of the first branches to bring new products and services of BIDV to customers. After more than 5 years of operation since its establishment, by the end of 2011, Quang Trung branch had achieved a capital mobilization balance of VND 9015 billion, increasing nearly 5.5 times. Outstanding loans reached 3,438 billion VND.
Service revenue in 2011 reached nearly 25.37 billion VND. The branch currently has 150 employees with an average age of 27 years old, with an increasingly improved organizational model: including 14 departments and 1 professional team. In particular, Quang Trung branch is the first branch in the investment and development banking system in Vietnam to have a model of a full-time Marketing team, a securities group and a semi-specialized network development board to serve the following tasks: unit specificity. With the efforts of the branch staff, in the past years, Quang Trung branch has continuously won the title of unit that has successfully completed its tasks, the branch's staff has won individual titles awarded by the Bank. Investment and Development of Vietnam awarded.
Along with initial successes in business activities, political and mass organizations are often valued and operated effectively. The Party cell was consolidated in terms of organization, operated in accordance with the charter, developed 7 new party members, the number of party members of the cell has reached 24. Along with 8 party sentiments that are continuing to monitor, training and preparation for admission. The trade union organization well performs the tasks according to the charter, ensuring the rights and development of the union members. The Youth Union actively participates in movement activities, improves the cultural and spiritual life of young cadres, enhances understanding and contributes to the overall achievements of BIDV in the region and the whole system.
In general, in the short period of operation, the branch apparatus and mass organizations have gradually been developed, supplemented and perfected, operating in coordination and bringing good results. The collective of officers and employees in the branch has a spirit of solidarity, frankly struggles and criticizes internally in order to achieve the spirit of true solidarity, learn from experience and identify common striving ideas. In that spirit, with the initial foundations achieved, as of December 31, 2011, Quang Trung branch has achieved total assets of over VND 7,235 billion, raising capital at the end of the period reached VND 9,015 billion, an increase of 1,015 times as of December 31, 2010. Credit balance at the end of the period reached VND 3,438 billion, complied with the credit limit, the profit per capita after tax reached over VND 200 million/year, exceeding the quarterly schedule of the 2011 plan.
BIDV's leaders said that the introduction and operation of Quang Trung branch and a number of branches that have been and will be established in the near future will be a specific step in BIDV's development strategy to 2015. implement restructuring of customers, structure of banking products and services, contributing to improving the competitiveness of BIDV in international economic integration.
2.1.2.2 Organizational structure, management apparatus of BIDV Quang Trung branch
BIDV Quang Trung branch is a highly independent legal entity in the BIDV system, having the right to organize and make business and management decisions within the framework of laws and regulations of BIDV. 1 in the banking system for Investment and Development of Vietnam. Currently, the branch has 3 affiliated level 2 branches and 5 transaction offices in Hanoi.
– Branch 1: No. 37B Thanh Street, Hoan Kiem District, Hanoi City.
– Branch 2: No. 20 Cat Linh, Dong Da district, Hanoi city.
– Branch 3: No. 118 Nguyen An Ninh, Hoang Mai District, Hanoi.
In terms of organizational structure, the leadership of BIDV Quang Trung branch includes 1 director, 3 deputy directors and heads of departments.
– Director: Le Quang Thanh.
– Deputy Director 1: Ms. Nguyen Thi Minh Huong.
– Deputy Director 2: Ms. Le Thi Thanh Huyen.
The departments include: credit department, appraisal department, customer relations department, computer department, finance and accounting department, general planning department, risk management department, administrative department, control department Internal audit, international payment department, departments perform tasks under the management and administration of the Board of Directors.
The branch has a team of young staff, the average age is about 27, with basic training in banking and finance, with a spirit of learning to improve qualifications. Key staff of the branch have a lot of experience and good working qualifications. The branch's affiliated departments with different tasks, specifically: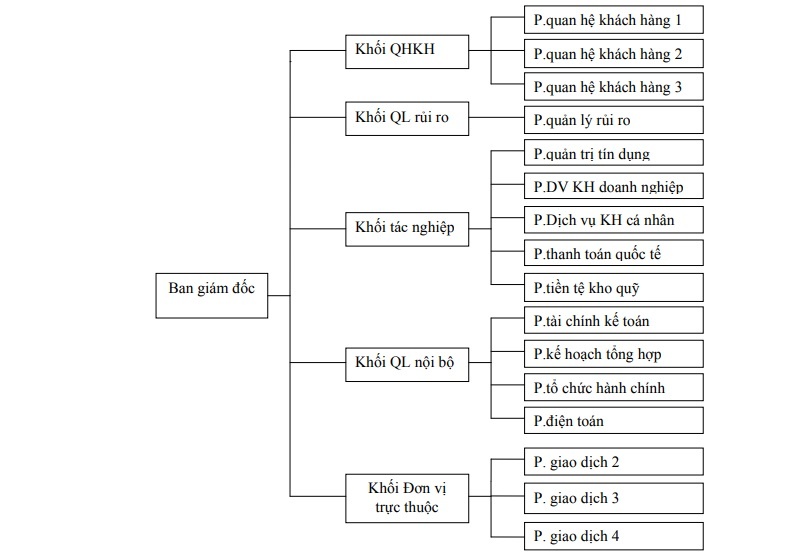 Figure 2.1 Organizational structure, management apparatus of BIDV Quang Trung branch
(Source: P. Administrative organization)
2.1.2.3 Relationship of BIDV Quang Trung
– For other credit institutions: + Cooperation on the principle of equality and mutual benefit.
+ Credit relationship when authorized by the Director: Coordinating lending, co-financing and providing banking services to customers.
– For customers: + Be responsible for economic and civil matters in the branch's commitments to customers.
+ Maintain confidentiality of documents, data, and operation status of customers in accordance with the provisions of law.
+ Equality and cooperation for mutual benefits in credit transactions and banking services for customers.
2.1.2.4 Main activities of BIDV Quang Trung
– Branches may mobilize long-term, medium-term and short-term capital in VND and foreign currencies from all domestic capital sources in the following main forms: + Receive savings, demand and term deposits , payment deposits of all residential institutions.
+ Issuing deposit certificates, bills, promissory notes, bonds under BIDV's name and other valuable papers.
+ Borrowing capital from financial institutions in all kinds of markets – Branches carry out credit operations and major banking services: + Long-term, medium-term and short-term loans according to the current mechanism in VND and foreign currencies for businesses of all economic sectors, households and individuals.
+ Discounting valuable documents + Guarantee and re-guarantee operations + Directly performing and acting as a financial leasing agent under the authorization of the Director or the financial leasing company of Vietnam Bank for Investment and Development of Vietnam + Buying and selling, foreign currency conversion and foreign exchange services + Domestic and foreign payment services between customers + Participating in bidding to buy bonds, government bills, bonds of the State Bank, and state treasury on the market by The State Bank of Vietnam organizes it when permitted by the Director.
+ Agency banking services, capital management of investment projects upon request.
+ Financial consulting services for customers.
2.2 Overview of the country's real estate bad debt
Real estate – a large field that dominates the national economy, is going on a very confusing situation, at least in terms of numbers. As of the end of 2011, the total outstanding loans for real estate was VND 348,000 billion (Source: Banking Magazine, No. 3, Feb. 2012). According to the National Financial Supervisory Commission, this figure is 1.8 times higher than the number announced by banks before, or approximately 200,000 billion VND. According to the National Financial Supervision Commission, the number of real estate bad debts at banks is 8 times higher than the figures reported by these banks themselves. It also means that for quite a long time, from June 2011 – the first time when there was a "fluctuation" in the banking system about bad debt status, when the banking sector was forced to reduce the interest rate. non-production lending rate to 22% at the request of the State Bank,until recently most banks have kept their actual loan balance and therefore bad debt ratio which has become dangerous for them.
Not too contrary to the speculations of the public opinion, BIDV has become the "champion" in terms of outstanding loans for construction – more than 42,000 billion VND. Next is Vietinbank – 41,000 billion VND. Both banks have a ratio of real estate and construction loans accounting for 14% of total outstanding loans. ACB and Sacombank are also in the "top 10" list. But accounting for a much higher proportion of the total outstanding loans are small banks such as Southern, Western, and East Asian – 26%. SHB also has a ratio of loans to construction and real estate accounting for 18% of total loans.
Also in the report of the National Financial Supervisory Commission, the total value of loans to the two fields of real estate and construction of the 10 banks with the largest outstanding balance was reported to be 147 trillion VND, equal to about 73 billion VND. % of real estate loans reported by banks at the end of 2011. Compared with the adjusted figure of the National Financial Supervision Commission, this rate accounts for 42%.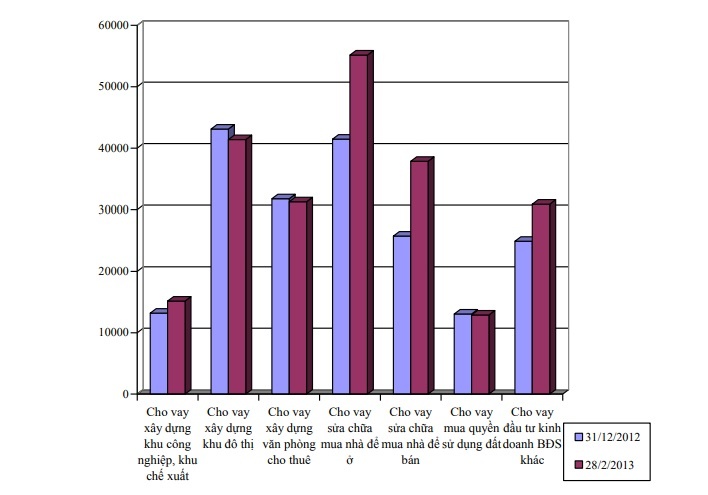 Figure 2.1 Total credit outstanding for real estate loans
(Source: National Financial Supervisory Commission)
At the end of May 2012, the State Bank announced that the bad debt ratio had reached 10%, compared to only 3.4% also announced before the National Assembly in November 2011. Thus, in just 6 months, the bad debt ratio in the banking system has tripled without information about this abnormal increase. If possible, it is also advisable to consult an independent international credit rating agency, Fitch Ratings. Since June 2011, when the SBV only admitted the bad debt rate in the banking system was about 3.2%, Fitch announced this ratio up to 13%, which is 4 times higher than the figure of the relevant authorities. blame Vietnam. Now, with the 10% bad debt ratio announced by the State Bank of Vietnam, is the actual bad debt rate much higher? 50%, or about VND 125,000 billion, is likely to "disappear" from the outstanding balance of real estate loans, which can account for 36% of the outstanding loan balance of 348.000 billion VND announced and adjusted by the National Financial Supervision Commission.
At the recent meeting of the Central Steering Committee for Policy and Real Estate Market, a representative of the SBV said that as of June 30, 2013, outstanding loans for the field of real estate investment and business reached VND 242,804 billion, increased by 6.3% compared to December 2012 (while outstanding loans of the whole economy increased by 4.5%).

Date published: 01/11/2021