Developing card services at Viet A Commercial Joint Stock Bank - 6
Although not as many customers as big banks, most of them are loyal customers who have always been with the bank since its establishment until now.
4.2.5.3 Fees and procedures for card issuance documents
By referring to the fee rates in the market, Viet A Bank has offered competitive fees and simple but equally strict procedures to protect the interests of customers. In the past time, the Bank has waived annual fees for customers, account management fees, transaction fees on ATMs, etc. Therefore, customers are very satisfied with the fees as well as the card issuance procedures at the bank. During the operation period, there have been no complaints from customers about this problem.
4.2.5.4 Promotions, customer care policies
Through many promotions, Bank Card Center found that customers are very responsive to the program, awards and promotion policies of the bank are always highly appreciated and participated enthusiastically by customers. That is why each program implemented has received attention and brought high efficiency and great success.
4.2.5.5 Cards, ATMs and card merchants
Through the 24/7 call center, the Card Center has received customer reviews on this issue. Customers are not really satisfied with the variety of cards, VietABank only issues a number of main card products, no separate cards for many different audiences. But customers appreciate the utility that the card provides. Particularly for ATMs, it has not been able to satisfy customers because the number of ATMs of the bank has only reached 45 machines in the whole system, however, the bank knows about that weakness, so it has connected with many banks. alliance so that customers can conveniently pay and customers have not yet incurred any fees when withdrawing cash at ATMs of those member banks. For the criteria "easy-to-use cards and ATMs" and "reasonable ATM locations, 24/7 continuous operation", customers are very satisfied.
4.2.5.6 Card problems
This is the issue that customers are most concerned about, like other banks, although they always follow up on customer card transactions, sometimes card problems still occur, customers are not very satisfied with the problems. In this case, the most common is that the transaction is not possible or the customer withdraws cash but does not receive the money but the account has been deducted. In this case, it has to wait for the bank to check with your banks, usually this time takes at most 5 working days, this is the most dissatisfied customer problem, so the Card Center always has to do as quickly as possible (about 3 business days) to refund the customer's account.
Maybe you are interested!
5 CHAPTER 5‌
CARD SERVICE DEVELOPMENT SOLUTION AT VIET A BANK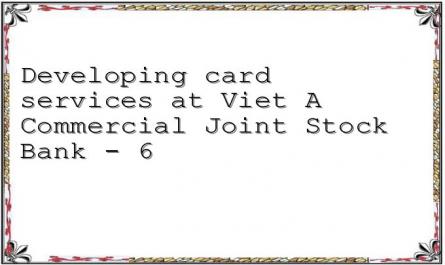 5.1  Base on the premise to build the solution
5.1.1 Potential for developing bank card services in Vietnam
Vietnam is a country with stable politics, economic growth at a fast and stable rate for many years. Dense population. Vietnam is a country with a young population. The average age is under 30 and this group makes up a large proportion of the population. This has a direct impact on quickly adapting to advanced technologies and techniques, facilitating easy access to card services. All of the above factors are the premise for a boom in Vietnam's card market in the coming time.
5.1.2 Development orientation of card services of VietABank
If we compare the profit earned from card issuance and payment activities with the profit of the whole bank, it is clear that this is not a big business at VietABank. However, the bank's management still considers this an important operation in the development strategy of the bank. Therefore, in the coming years, card issuance and payment will continue to be promoted at VietABank. This is reflected in the following aspects:
5.1.2.1 For card issue
The central task of the bank is to focus efforts on promoting card issuance, coordinating between departments to create a rhythm in card issuance, in order to improve both the quality and quantity of operations. this.
In order to widely introduce this advanced form of payment, large marketing, advertising and promotional programs need to be promoted in both breadth and depth.
Besides reinforcing existing products, the introduction of products
is also a prerequisite to dominate this potential market.
In the coming time, VietABank intends to:
Continue to deploy and further develop the nationwide ATM system, bringing the ATM system to life.
  Issuing Co-branch cards with domestic organizations and companies such as airlines, post offices, and tourism with the aim of exploiting common customers of units having business relationships. permanent, long-term.
  Issuance of corporate card (Corperate/Business card). This is a type of card issued on request of companies to their employees.
5.1.2.2 For card payment service
Ensure stable operation of payment management and payment software, strengthen coordination with post offices and relevant foreign partners to overcome system errors.
Invest in marketing strategy to research and develop new cards, promote customers to use cards, take advantage of the experience and resources of foreign partners.
Maintain and develop card-accepting establishments (CSCNTs) in parallel with automating and improving the quality of card payment services at these establishments. Cooperate with unpaid banks to expand CSCNT network. Reduce fees for CSCNTs with large and stable payment volume, equip some more machines for CSCNTs.
Researching to combine card payment with other banking operations to ensure the provision of banking products in a synchronous and competitive manner.
5.1.2.3 About organization, people
Organize domestic and foreign training for staff to
respond to the increasing requirements of the changing card technology in the world.
Building a spirit of solidarity, learning and helping each other for the common goal of completing work well among employees.
5.1.2.4 About technology and techniques
Invest in some more modern machines in combination with upgrading and further perfecting the existing machinery system. Gradually synchronize the system of technical machines used in the field of cards. Periodically invite foreign experts to maintain equipment for card issuance and payment.
5.2  Card service development solutions organized by VietABank
Currently, the Bank is trying to find a solution to a difficult problem, that is, how to improve competitiveness to respond to fluctuations and changes in the regional and international business environment in the world. facilities promote strengths and take advantage of opportunities, as well as deal with challenges and limitations, especially technology issues, customer exploitation, card organization structure..
How to show the difference between VAB card service and other banks? How to demonstrate superior utility when comparing different types of bank debit cards? … VAB needs to strengthen the business promotion of debit card services to solve the above questions. So the specific tasks are as follows:
5.2.1 Solutions for scale development

 Invest in care and development of card customers
Customer care is extremely important in the service business and especially in traditional customer care. Besides developing new customers, it is necessary to focus on existing customers by building relationships, interacting and connecting regularly.
Disseminating knowledge about cards and card services to potential customers. Reach and market strategic customers.
Cross-selling retail banking products in general and card services in particular to increase the convenience and efficiency of card use.
Customer care and development solutions must be implemented synchronously, throughout and in the long term to bring positive and sustainable effects. To do so requires the close attention of the Board of Directors and the unanimous determination of all employees of VCB Phu Tai.

 Develop a variety of card products
This is "vital" for the existence and development of card payment activities for a long time. Product policy needs to fully and synchronously implement the following issues: First, evaluate existing products, Second, develop new products
In addition to focusing on issuing domestic cards, the bank needs to improve the issuance method of its two international credit cards. Lower the minimum to about 3-4 million. With the new credit limit, many high- and medium-income customers in the city can participate in using the card. At the same time, the card issuance and issuance procedures also become easier. Customers only need to have a stable job and income, have a permanent residence in the locality, have a good background and have a relative's guarantee.
With the mentality of Vietnamese people being very cautious in spending money, not familiar with spending first, paying later, the issuance of debit cards seems to be the right direction in expanding card services.
Issuance of cards linking banks and large enterprises such as post offices, airlines, taxis, commercial centers...

 Reasonable fee policy to increase customers, increase usage revenue and increase balance on card account.
Price and cost are always the first concern of customers when using a certain product or service. So to promote the development of card services, we can first use a number of fee-based solutions, such as: free
card issuance, for organizations and unions, the first 3 months of using the card service are free for customers to boldly familiarize themselves with the bank's facilities. Maintain good relationship with old customers; Besides, it is possible to implement a 1-month free policy of all card services if that customer introduces 10 new customers.

Promotion and promotion strategy
Banks use communication tools or through events and images to provide information about payment card services to target customers. Promotion and expansion strategies are concretized through the following activities:
Firstly, advertising activities: it is necessary to promote advertising of card products on the mass media: television stations, ... in order to gradually introduce the card into the lives of all classes of the population.
Second, promotional activities: it is necessary to organize promotions to increase sales and number of customers
Third, regularly organize customer conferences: to introduce new benefits brought by the card and poll customers about the quality of products and services provided.
Fourth, direct selling: this is the most popular and most important form of communication for banks, does not require expensive costs but is the most effective form.
Fifth, public relations: can be through sponsorship of cultural, artistic and sports programs, accounts on television stations, magazines, newspapers ... to provide information about products bank card for customers.
5.2.2 Expansion of market share, withdrawal network and merchants
Banks should give these establishments incentives in transactions with banks such as lending and payment activities, etc.
If these incentives bring practical effects to CSCNTs, other institutions will also voluntarily want to join this network.
The increase of card acceptance units will bring the highest economic efficiency in the card service business. To expand the network of merchants, VAB has provided card readers for free, but this is only a temporary solution because: first, the cost of each machine is quite high; Secondly, because they are equipped with free machines, many card-accepting units do not have a sense of preservation and preservation.
It is an obvious fact that banks need a card acceptor more than card acceptors need a bank. Many merchants already have a card reader provided by the bank, but when the transaction takes place, both the buyer and the seller prefer to pay in cash.
VAB can create customers for merchants. This is a form of bank advertising and marketing for card-accepting units.
Another solution is that VCB Phu Tai needs to lower the fee for card acceptors. The application of a high fee will reduce the profit for card-accepting units when paying for goods and services via card. Giving gifts and promotions to card acceptors with high payment volume also encourages merchants to make card payment transactions for customers.
Periodically, the bank should still send people to the facilities to check and maintain the machine, promptly repair the damage to increase the lifespan and facilitate the smooth and convenient payment at the facilities.
Building a unified card switching center, connecting ATM systems of current card alliances into a unified system, ensuring that cards issued by one bank can be used at many ATMs and POS of other banks.
5.2.3 Solutions for card service quality development

 Connect more new services:
Constantly looking for partners, connecting more new services to serve the diverse needs of customers. Research and develop more utilities for card products to attract customers to use.

 Developing and upgrading technology, science and technology
Card is a very modern means of payment with the help of the most advanced technologies in the world. The level of technology is a decisive factor in the quality of card payment services and an important factor in competing with other commercial banks. Therefore, investment in technology is very important.
Banks need to choose modern technologies that are widely applied in the world and suitable for banks to manage the information system, improve the quality and quantity of card payment activities. at the same time can detect and prevent card forgery of criminals.
Upgrade new processing system to increase processing speed accordingly. The bank needs to have a backup line, preferably its own.
Equipped with a new generation of ATMs with improved models and features. If the previous ATM lines only had the main feature of withdrawing money, now there are more sounds, vivid color screens and many more features and functions of the machine such as receiving savings deposits, making payments. insurance, electricity, water, telephone….to bring many conveniences to customers.
Develop a plan to periodically check ATM systems in the area in order to limit machine-caused problems and increase the bank's reputation among customers when using card services.
5.2.4 Strengthening risk management for card activities

 Limiting risks in issuance and payment
During the card issuance process, it is necessary to ensure that only relevant officials can enter the security room to print the card as well as the PIN. After receiving the finished card, the relevant departments must send the PIN and the card by 2 secure mail routes to the branch or cardholder. Ensure that the card and PIN must be handed over to the customer.
There must be information on how to use the security card. In order to limit possible risks during card use, VAB needs to develop a publication of instructions as well as notes for customers in the process of using stickers at ATMs and transaction points.
Strengthening card crime prevention: Currently, the risk in card payment at VietABank is quite low because the number of cards issued is small and the payment turnover is not high. However, with the low level of technology and the low ability in the card industry, the risk of risk in this activity at the bank is not small. Therefore, banks also need to develop a risk management strategy in all new operations to ensure the safety of this activity.
In order to prevent card transfer and the use of stolen cards by others, banks should apply the form of printing the cardholder's picture on the card surface with cards (this form is only applied to VISA cards). ). This makes it easier for CSCNTs to check cards and avoid fraud.
In addition, when issuing a card to a customer, the bank should instruct them on how to use it, as well as how to preserve and secure the card, and how to contact customers when it is stolen, lost or changed. about contacts.
When detecting fraudulent acts, VietABank needs to effectively coordinate with local security agencies to completely handle these fraudulent acts. At the same time, widely publicize the situation of card fraud that is happening in the world as well as the attack trends of card criminals so that customers know, raise their vigilance so that they can reduce risks. In the context of expanded international integration, card crime will increase.
The bank needs to have a risk reserve fund, which is part of the cost of providing services to compensate for the customer's complaints and loss transactions during card transactions. The State Bank requires banks providing card services to buy insurance in case customers lose money..

 Limiting risks at card-accepting units
VAB needs to learn more about the merchant before signing a card payment contract, especially about the merchant's status, business activities and financial capacity. .
Periodically organize training courses for employees of card-accepting units on how to recognize fake cards, necessary operations to make card payments, skimming activities and how employee manager.
Instruct merchants to use and maintain card payment devices in accordance with regulations.
Officers directly involved in monitoring debit card services must carefully review to detect unusual transactions.
Merchants who have not had transactions for a long time also need to be re-evaluated in terms of business efficiency, if necessary, have a card to withdraw POS machines to place in other units to do more effective business.
Information on card use and preservation, and information related to card forgery should be promptly updated for all participants in card issuance and payment operations such as cardholders, CSCNTs, distribution agents. card distribution, card officers at the central as well as at branches, equipping specialized knowledge for staff in charge of cards.

 Minimizing internal risks
Control the professional performance steps of direct staff. Regularly check the system of machinery and equipment to ensure the continuity, stability and safety of the system.
The reality shows that card fraud activities in the world originate mainly from card staff because these are the subjects who understand the card issuance and payment process, so they easily detect vulnerabilities. in the bank's rules and regulations to seek to make fraudulent money from card operations by colluding with CSCNT employees and other subjects. Therefore, VietABank needs to learn from the experiences of developed countries by taking the following measures:
  Completing the business process of card issuance and payment.
  Ensure the card system operates continuously and stably.
  Building 24/7 security zones strictly controlled by magnetic doors.
At the same time, equipping camera equipment in the above-mentioned sensitive areas.
  Select employees with good ethics, healthy lifestyle and strictly control their behavior during working time in important and confidential departments.
  Rotating employees directly related to card issuance periodically so that it is safe on the one hand and can promote the creativity and sense of responsibility of employees on the one hand.

 Limit technical risks
Must build a backup plan in data transmission; be prepared for possible situations when encountering network security problems.
5.2.5 Developing human resources, improving professional qualifications for employees
tablets
Card is a modern banking service , requiring a dynamic staff, sensitive to the market and highly qualified in technology and techniques. Moreover, the card payment staff is the person who directly interacts with customers, contributing to building the bank's brand and image, so for VAB, the solution to invest in human resources is both in terms of quantity and quantity. and quality becomes even more important.
Technology and technology have developed, but without a team of qualified staff, it is not possible to perform well in card business. In addition to improving professional qualifications, employees also need to be equipped with proficient foreign languages ​​combined with the timely addition of talented and good-quality young staff as the core of the company's human resources organization. card center VietABank.
An equally important factor is improving the card skills of CSCNT staff to ensure safety and prevent risks because this is an important focal point in the entire payment process. CSCNT's staff is characterized by frequent changes, it is difficult for new employees to immediately grasp card payment transactions, so it is very difficult to detect fake transactions. Therefore, banks should regularly monitor CSCNTs and organize training courses on card payment skills and regularly update changes in the card payment process.
Need to attract a team of collaborators to work part-time, serving the bank in the period of expansion or issuance of new card products.
In terms of quality, VAB should employ people with expertise in two areas: engineering and market research.
Train all bank staff to understand the card's features and services so that each person is a good communication channel; and regularly update new features and risks of card services to relevant ministries.
5.3 Some recommendations to the Government, State Bank, State management agencies
5.3.1 Promulgating a system of legal documents to protect the interests of entities participating in the card field
The government needs to issue legal documents to protect the legal rights as soon as possible
legislation of card business banks, CSCNTs and cardholders and serve as a basis for law enforcement and judicial authorities to impeach and penalize criminal organizations for counterfeiting payment cards as well as individuals who commit fraudulent acts. fraud, unauthorized use of cards to appropriate other people's property. Synchronous coordination between domestic and international authorities to promptly prevent these fraudulent acts.
5.3.2 Investment in infrastructure construction
The State needs to invest in equipment to modernize the bank because this is a very expensive job that requires a large amount of investment capital, ensuring the development of the banking industry will be a premise for the development of a bank. In many other industries, the state should consider reducing import taxes for card technology machines in Vietnam or at least create favorable conditions for the importation of these machines.
5.3.3 Promotion of card payment activities in Vietnam
Vietnam is a country where the use of cash still accounts for the majority of commercial transactions. Therefore, the use of cards in payment should be encouraged in Vietnam to reduce the amount of cash circulating in the economy. It is necessary to reduce value-added tax for this type of service as it is for goods that the State encourages to consume.
Besides. The State can pay salaries to employees through the personal account system at the bank to encourage transactions through the bank.
This both helps the State manage the income level of officials and has an impact on promoting payment by card.
5.3.4 Creating a stable socio-economic environment
A stable socio-economic environment is always a solid foundation for all development, of course, for the development of the card. This is also one thing
conditions to be able to expand international relations, is a good condition for banks to expand their relationships with international card organizations.
5.3.5 Completing legal documents on cards
In the current situation, the card is gradually becoming a popular means of payment, the legal environment for the card needs to be improved quickly. Currently, VietABank's cards are subject to strict regulations of the International Card Association, but still need a specific legal document on card business. The current foreign exchange management policy still lacks a separate regulation for cards, especially international credit cards, in order to strengthen the management of customers' card usage and avoid taking advantage of cards to transfer foreign currencies. In addition, the issue of card credit, a new form of credit, needs to have its own regulations in order to create conditions for banks to enhance their powers in assessing and ensuring credit for customers. More attention should be paid to the difference between normal credit guarantees and card credit guarantees.
5.3.6 There should be policies to encourage card business expansion
First of all, the State Bank needs to have policies to support banks in developing card operations in order to increase their competitiveness with foreign banks. Regularly update information and organize courses, exchange and spread experiences between banks. The State Bank also needs to have certain preferential policies to increase the competitiveness of domestic banks with foreign banks such as the reserve ratio for hedging, tax incentives. .. In addition, banks should also be allowed to apply preferential programs for customers to attract customers and ensure competition for banks.
In addition, the State Bank also needs to come up with long-term strategic plans to avoid the situation that domestic banks compete with each other.

Date published: 10/04/2022