3. Functions and duties of departments: 

 Credit management department:
Coordinating with relevant departments to manage and preserve mortgage and pledge records and keep credit records in accordance with regulations of the State Bank and Viet A Commercial Joint Stock Bank

 Credit bureau:
Consists of 2 divisions: corporate customers and individual customers
Carrying out the Bank's credit granting operations: Short-term lending; medium and long-term loans; guarantee operations. Credit information center for the whole system. Advise and direct credit operations of the whole system for the Board of Directors. Assist and advise the Executive Board in drafting regulations and processes related to credit granting operations. Contact and work with customer partners (Project Owners) to be able to sign cooperation and association contracts to expand credit market share and deploy these contracts to the whole world. implementation system  .

 Property appraisal department:
Valuing and appraising assets and sources of debt repayment of customers according to regulations of the bank's appraisal activities. Check the accuracy and authenticity of the properties to be valued as required. Coordinate with other departments as required by internal processes.

 Foreign currency - gold room:
There are two divisions: the foreign currency division and the gold trading department. General operation contents for 2 divisions include: balancing capital sources, using capital (foreign currencies, gold, precious metals, gems) for the whole bank to fix foreign exchange rates, gold trading prices, precious metals and gems and notify VAB affiliated units to apply; exploit foreign currency sources to ensure these units operate in accordance with regulations.

 Joint Venture Investment Department:
Formulate feasible investment projects to mobilize entrusted and investment capital sources; act as the focal point of entrusted capital, domestic and foreign investment; performing investment entrustment operations for investors; compile records, manage and monitor the production and business status of projects funded by VAB's investment or joint venture; report the situation to the General Director for timely handling measures; performing securities depository operations. At the same time, it is responsible for researching forms of joint ventures, buying and selling securities, leasing and buying finance, participating in capital and money markets in order to take advantage of all idle capital resources to increase accumulation. for VAB.

 Transaction office - treasury:
There are 2 divisions: the trading department and the treasury department
Transaction department: performing payment deposit transactions, savings deposits, carrying out procedures for foreign currency exchange, gold trading, collection and payment, house keeping and other treasury services; It is also a place for capital mobilization activities including receiving deposits, issuing certificates of deposit, bonds, promissory notes and other valuable documents to mobilize loans and capital from domestic and foreign credit institutions. country, borrowing capital from the State Bank and other forms of capital mobilization in accordance with regulations of the State Bank.
Treasury Department: is responsible for safely and accurately performing the stages of receipt, counting, selection, packing of receipts and payments, import and export, cash management, gold, valuable documents in the treasury and in transactions with customers in accordance with the treasury operations process of the State Bank and Viet A Bank

 International Payment Department:
Responsible for providing foreign exchange services, remittance services, commercial and non-commercial payment services, and import payment services (opening L/C, transferring money by TT, collecting collection) ...) and acting as the focal point in international relations through the establishment of agents with foreign banks located within and outside Vietnam's territory, relations with international financial institutions; customer search marketing.
The financial accounting department occupies an important position in the Bank's operational system. The Financial Accounting Department has the following functions:
Organize and guide the accounting work of the whole banking system: serving the preparation of financial statements (monthly, quarterly, annually), serving the requirements of management, administration, and decisions economic and financial. Check and supervise financial expenditures, advise the General Director on solutions to serve the requirements of management, administration, economic and financial decisions. Perform general accounting. Store, report and provide information on accounting data according to regulations.

 Research and Development Department:
There are two divisions: the planning department, the research department
Planning Department: is responsible for formulating strategies and operational plans of VAB, monitoring the planning progress and proposing measures to implement the plan, promoting products and services provided by the bank. grant
Research department: is responsible for researching and analyzing the socio-economic situation, assessing factors that can affect VAB's business, and developing new products.

 Funding Department:
Monitor interest rates of credit institutions in the area and adjust interest rates in a timely manner.

 Legislation room:
Carry out the task of researching and mastering the content of legal documents related to banking activities to apply to the drafting of management documents, forms and documents to implement the resolutions. decisions and decisions of the government and the State Bank of Vietnam in the entire VAB system.
Activities: advising and assisting the Board of Directors in formulating personnel policies in the whole system (recruiting, appointing, promoting, rewarding, disciplining employees...); assist the Board of Directors in implementing, inspecting and supervising the implementation of regimes and policies for employees and performing other tasks assigned by the Board of Directors.

 Administrative office:
Responsible for managing VAB's seals; forwarding, handling, storing documents of all kinds, managing archives of documents, managing all assets of VAB; Coordinate with the financial accounting department to check, estimate and finalize capital construction...

 Information technology room:
Tasks: building, managing and developing information technology systems, promptly solving business requirements arising on the basis of the current system; based on the approved plan, procure, distribute, maintain and repair informatics facilities for the departments; in charge of receiving and transmitting data to relevant units, coordinating with treasury transactions to organize inter-bank electronic payments and payments through ATMs;...

 Card Center:
Viet A Bank Card Center is a bookkeeping unit, directly under the General Director and authorized to use VAB's seal in the Center's operations. Card Center performs the business function of cards of Viet A Bank and centrally manages card-related activities in the entire Viet A Commercial Joint Stock Bank system.
APPENDIX 3
BILLION SURVEY TABLE
Interviewer: ................................................................................. ..........
Interview location: ................................................................................. ..........
Hello Brother(Sister)!
We are a research group in the Banking and Finance sector of the University of Economics Ho Chi Minh City. Currently, we are conducting a research on  the quality of ATM service of Viet A Commercial Joint Stock Bank . We would like you to take a moment to answer some of the questions below. Please also note to you that there is no right or wrong opinion, all of your honest opinions contribute to the success of this study. We look forward to receiving your sincere cooperation.
Please indicate how much you agree with the following statements: Please put an  X  in the number that matches the following convention:
1. Totally disagree.
2. Disagree.
3. No comments.
4. Agree.
5. Totally agree.
STT

STATED

first

2

3

4

5

first

Viet A Bank will deliver the card to you at the scheduled time

 
 
 
 
 

2

Bank's card products are diverse to suit your needs

 
 
 
 
 

3

You use the card the most for the purpose of withdrawing cash or paying for goods and services

 
 
 
 
 

4

NH's card has many utilities

 
 
 
 
 

5

The bank has instructions on how to use the card, how to secure the card and full card services for you

 
 
 
 
 

6

Fast and accurate card issuance process

 
 
 
 
 

7

Merchants fully understand and perform well the card payment for you

 
 
 
 
 

8

When you have questions or complaints, NH always solves them satisfactorily

 
 
 
 
 

9

Bank's interest and fees are suitable to your preferences

 
 
 
 
 

ten

The ATM/POS system is always working well (the system is not faulty, the transaction is always successful, the withdrawal is short

money…)

 
 
 
 
 

11

Payment for all basic services (electricity, water, telephone…) of many suppliers

 
 
 
 
 

twelfth

Cash withdrawn from ATM/POS is of high quality (not torn or counterfeit...).

 
 
 
 
 

13

The bank has many promotional policies to attract you

 
 
 
 
 

14

Bank Viet A staff quickly opened an account for you

 
 
 
 
 

15

The transaction is done quickly after receiving the order.

 
 
 
 
 

16

The ATM/POS system is always ready for you to make transactions

 
 
 
 
 

17

You can easily change your personal password (PIN)

 
 
 
 
 

18

Location of ATM/POS machines is convenient and easy to reach

 
 
 
 
 

19

You can make transactions at many ATMs/POSs of other banks

 
 
 
 
 
Maybe you are interested!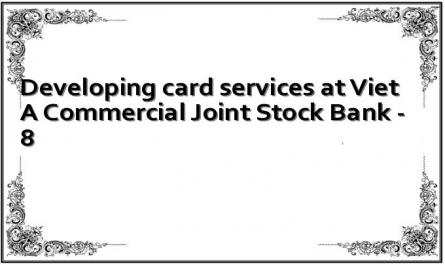 | | | | | | | |
| --- | --- | --- | --- | --- | --- | --- |
|   | NH staff always behave politely and courteously to you |   |   |   |   |   |
| 21 | NH staff has enough knowledge to answer your questions |   |   |   |   |   |
| 22 | NH staff is very professional |   |   |   |   |   |
| 23 | Bank can control the transactions in the account |   |   |   |   |   |
| 24 | NH always protects the information on your card (password…) |   |   |   |   |   |
| 25 | ATM booths are arranged independently, no one can access while making transactions |   |   |   |   |   |
| 26 | Viet A Bank has modern equipment |   |   |   |   |   |
| 27 | Employees of NH Viet A have neat and polite clothes |   |   |   |   |   |
20
Finally, please provide the following personal information (tick the appropriate number)
1. Gender  1. Male 2. Female
2. Which of the following age groups do you belong to:
1. Under 20 years old 2. From 20-35 years old
3. From 35-50 years old 4. Over 50 years old
3. Please indicate your monthly income:
1. Under 1 million 2. From 1 - <3 million / month
3. From 3 - < 5 million / month 4. From 5 - < 10 million / month
5. Over 10 million/month
4. Please indicate your occupation
1. Students 2. Office workers
3. Company pays salary 4. Professional occupation (Teacher, doctor, lawyer…) 5. Other (please specify ): ……………………..
Thank you very much for your enthusiastic cooperation.
Wishing you health and success
APPENDIX 4
RESEARCH INFORMATION SMALL GENDER
| | | |
| --- | --- | --- |
| Sex | Quantity | Percent |
| male | 58 | 58 |
| Female | 42 | 42 |
| Total | 100 | 100.0 |
AGE
| | | |
| --- | --- | --- |
| Age | Quantity | Percent |
| Under 20 | first | first |
| From 20 to 35 | 40 | 40 |
| From 35 to 50 | 51 | 51 |
| Over 50 | 8 | 8 |
| Total | 100 | 100.0 |
INCOME
| | | |
| --- | --- | --- |
| Income | Quantity | Percent |
| From 1 - < 3 million VND | 5 | 5 |
| From 3 - < 5 million VND | 42 | 42 |
| From 5 - < 10 million VND | forty six | forty six |
| Over 10 million VND | 7 | 7 |
| Total | 100 | 100 |
JOB
Job

Quantity

Percent

Student

ten

ten

Officer

50

50

Company pays salary

21

21

Professional occupation

subject

9

9

other

ten

ten

Total

100

100
APPENDIX 6
CARD BASIC ISSUES
1. Structural features of the card
Since its inception, the structure of the card has undergone significant changes to increase safety and convenience for customers. Today, with the achievements of microelectronics technology, some cards are attached with an electronic chip to increase the ability to remember information and the security of the card. Most cards today are made of hard plastic (plastic), measuring 84mm x 54mm x 0.76mm, with rounded corners on two sides:
  The front of the card includes:
-  Card issuer's name, logo and badge.
-  Card number: is a unique number for each cardholder. This number is embossed on the card and will be reprinted on the invoice when the cardholder makes a purchase. Depending on the type of card, the number of digits is different and the group structure is also different.
-  Validity date of the card: is the period during which the card is circulated.
-  Full name of the cardholder.
  The back of the card includes:
-  The magnetic stripe is capable of storing information such as card number, validity date, cardholder's name, issuing bank's name, PIN number.
-  Sample signature tape of the cardholder.
2.  Card classification
  Classification by production technology:
-  Magnetic Stripe (Magnetic Stripe):
Manufactured based on magnetic technology with 1 magnetic tape containing 2 information slots on the back of the card. This card has been in common use for the past 20 years. However it has
Some disadvantages are as follows:
  The possibility of being exploited is high because the information written in the card is not self-encrypted, people can read the card easily with a reader attached to a computer.
  The card has fixed information, the information area is narrow, and the security code techniques are not applied. Therefore, in recent years, money has been taken advantage of
-  Smart card (electronic card with microprocessor chip):
As the latest generation of payment cards, smart cards are based on microprocessor technology, embedded in an electronic "chip" that is structured like a perfect computer. Smart cards are safer and more efficient than magnetic tape cards because the "chip" can hold 80 times more information than a magnetic stripe.
  Classification according to the payment nature of the card:
-  Credit card:
Is a cashless payment instrument that allows users the ability to spend first, pay later. The time from when the card is used to pay for goods and services to the time the cardholder pays the bank depends on the type of credit card of different organizations. If the cardholder pays the entire outstanding balance by the due date, this period becomes a grace period and the cardholder is completely interest-free on the outstanding balance at the end of the period. However, if at the end of this time period, the entire outstanding balance at the end of the period has not been paid to the bank, the cardholder will bear late fees and interest. When the entire amount is refunded to the bank, the cardholder's credit limit is restored to its original state. This is the "revolving" nature of credit cards.
Financial institutions such as banks or financial companies issue credit cards to customers based on the reputation and ability to guarantee payment of each customer. The ability to ensure payment is determined based on the synthesis of many different information such as: income, spending situation, available relationships with financial institutions, social status ... of customers.
When using a card, instead of cash, the cardholder presents his/her credit card at the points of supply of goods and services that accept cards (referred to as card acceptors) for payment.
-  Debit card:
Like a credit card, a debit card is also a means of cashless payment. Any customer who has an account opened at a bank has a debit card, or in case there is no account, the customer wants to issue a debit card, the debit card itself will be attached to an account. customer account. Debit cards allow customers to access their account balances via an online connection system to pay for goods.
-  Cash Card (Cash Card):
is a form of debit card but has only one function, which is to withdraw cash at automatic teller machines (ATMs) or at banks. With a special function only for withdrawal, the withdrawal amount each time will be gradually deducted from the deposit amount in the account.
  Sort by territory
-  Domestic card: A card issued by a financial institution or a domestic bank, which can only be used in the country.
-  International card: A card used not only in the country where it was issued but also internationally. To be able to issue this card, the issuing bank must be a member of an international card organization.
-  Sort by issuer
Bank-issued card:  is a card that helps customers to flexibly use their accounts at the bank, or use an amount of credit granted by the bank, this type of card is now quite popular. , it not only circulates in some countries but also circulates globally (eg: VISA card, MASTER..).
Cards issued by non-banking organizations:  travel and entertainment cards
issued by large business groups such as DINNERS CLUB, AMEX... and also circulated around the world.

Date published: 10/04/2022