By the end of 2015, there will be 250,000 card-accepting points nationwide. The development of wireless POS technology (using 3G or GPRS network) and mobile POS (mPOS) will help the target of 250,000 POS be achieved. And this POS network will play a very important role to make the cash withdrawal story simple for both the cardholder and the Bank.
Along with the above trend, VietABank has also gradually implemented a POS system with more than 1,700 machines in early 2009 so far, it still only accounts for about 1% of the POS market share. Due to being still young in this field, it is still not able to compete with other big banks such as VIETABANK, Vietinbank, BIDV, etc.
3.2.4.3 Evaluation of card service quality development

 Diversify utilities, expand connection of new services for cards
Establish a 24/7 customer request and processing center to answer and support customers as quickly as possible.
Connecting new partners, providing more payment services via card and card account for customers such as: buying scratch cards, phone toup, paying electricity, water, internet, telephone bills, closing tuition fees, shopping for goods, airline tickets, train tickets, .. on many different payment channels to ensure safety, speed and accuracy, serving customers anytime, anywhere.
Active message alerts and other built-in services.

 Developing information technology, ensuring safe and convenient transactions
In order to best serve customers, Viet A Bank has built a suitable technology system to connect with the first national switching companies, which is Smartlink Card Service Joint Stock Company. The alliance connection between banks has three advantages: firstly, it benefits customers because the transaction network is expanded, secondly, when "many trees cluster together", it will increase the competitiveness of banks in the banking sector. country with foreign banks and savings
saving investment costs, thirdly creating conditions for people to reduce cash use and
paying through bank.
Make sure the transmission line system always works stably and smoothly.
VietABank always has a staff in charge of technology on duty 24/7.
Upgrading and maintaining machinery and equipment periodically, although the cost for this operation is not small, but to ensure the best transaction quality for customers, VietABank is not afraid to invest in these items.

 Improve professional skills for employees
The staff of the Card Center are currently trained on the job every 6 months, and must attend skill classes organized by the bank and the Card Center to update their knowledge. Regulatory processes that are amended, supplemented, and replaced are updated for the entire VietABank system when they arise.

Streamline card service structure
Over the time of implementing card services, VietABank realized that it is necessary to focus on payment-related services because the needs of customers are increasing, these products and services are a source of high income. and less investment costs for the bank. Other services are less focused because customers have less demand to use.

 Risk control
Interest rate, exchange rate and credit risks are very small because they arise little, so we often pay less attention as operational risk. In recent years, the business of prevention and risk management for card operations has been organized more rationally and effectively. At VietABank also established a risk management department of the Card Center to promptly capture and handle risks that may arise.
3.3  General assessment of the development of card services of VietABank
3.3.1 Achievements
1st: Increase the prestige and image of VietABank in the market
The development of new products, new utilities, has created a new brand for modern cards to help people identify VietABank as really a modern and reputable bank.
Along with the investment in modern technology and the application of new payment methods, it is necessary for bank staff to be more professionally trained and have more perfect skills to serve customers. Thanks to that, the prestige and brand name of VietABank cards are affirmed in the market. Along with promoting card products on the mass media, VietABank's name is constantly being updated in the consciousness of customers. Moreover, the card is a surface service, easy to use and suitable for many customers, so it is easy to ingrain into the subconscious of the people.
Second: Increase mobilized capital
Debit cards in general help an important part to increase bank capital. As analyzed above, every year VietABank mobilizes hundreds of billions of dong from debit cards. According to VietABank's regulations, branches are entitled to interest on capital mobilization balance; allowed to be used flexibly and in accordance with the specific business situation at the branch. This policy was initially welcomed by the branch, helping them to take advantage of capital and actively build effective capital use programs in their respective areas. It can be said that the birth of card service has actively contributed to promoting VietABank's development activities.
Third: Increase revenue for the bank:
In developed countries, most of the card business banks earn huge revenues and profits. Most financial corporations have their own, independent card companies. In the current fierce competition, traditional banking markets such as credit, securities, real estate,
If real estate...etc is saturated, finding a new business product is considered as one of the decisive steps forward. Therefore, in the coming time, the card is a product that Vietnamese banks in general and VietABank in particular invest and focus on developing.
Fourth: Innovation in banking business strategy
With the card deployment, banks have now focused on retail banking products, so risks are spread evenly in banking activities, thereby increasing net profit. In fact, in recent times, banks such as ACB, Vietcombank, VietABank, SaComBank... have all focused on business innovation by diversifying card products, consumer loans and individual business households. , Internet Banking service...etc are living proofs of this issue.
5th: Other Results 

 Infrastructure:
Obviously, for banks, technology is a top priority, building software to support the card system, installing beautiful and luxurious VietABank branded ATM boxes nationwide...etc. Currently, commercial banks such as Vietcombank, VietABank, BIDV, ArgriBank... have basically completed the program of banking modernization. The advantage of this system is centralized management at the central level.

 Enhance the competitiveness and integration of banks:
With many modern banking products, more and more customers approach VietABank, creating more prestige for the bank in the market. Along with maintaining a modern technology platform, meeting international standards, helps foreign partners as well as customers to trust and appreciate VietABank.

 Well implement the State Bank's monetary policy:
Customers using cards contribute to reducing the amount of cash in circulation, contributing to speeding up capital circulation in the economy.

 Contributing to raising people's intellectual level:
Through the use of card services of VietABank, people have access to civilized means of payment. Thereby helping customers understand more about e-commerce transactions associated with the machinery and equipment of the modern economy.
3.3.2 Existing problems
Through the above analysis data, VietABank's card has not really developed, showing:

 VietABank card brand has not been clearly formed in the market; advertising and marketing programs appear small, fragmented and unprofessional.

 The number of cards issued is low compared to your bank.

 The type of card issued is simple and monotonous in terms of categories. These cards are too few, not meeting all the needs of customers in the market.

 Low payout turnover, mainly depends on withdrawal sales
face.

 The size of the payment is small, which directly affects the revenue and
Bank card profits.

 VietABank's CSCNT network is thin compared to other banks, the quality of its operations is not high, its business lines are not essential, and it is not diversified to serve customers. CSCNT training is still weak, in the process of dealing with customers, there are many difficulties and troubles for customers.

 Functions of simple cards, just stopped at some traditional functions, so they are less attractive to customers, not really competitive compared to your bank. Besides, the number of ATMs of VietABank is still small, the service frequency has not reached international standards, and there are still ATM errors.

 Card issuance time is long, after 3-5 days after completing the procedure, customers will receive the card.

 Risks may arise because VietABank's card issuance process is repeated at many branches - Card Center - branches. In addition, payment card is a relatively new business in Vietnam, so there is a lack of experience in risk prevention and management. VietABank is the bank that deploys payment cards after many other banks, so the experience in this regard is less.

 VietABank's card systems operate independently, the economic efficiency is poor for banks, and the convenience for customers is low.

 Card revenue is not high.
3.3.3 Cause
3.3.3.1 Objective reasons
  Cash preference is still popular among Vietnamese people
One of the major difficulties in developing the card market is the preference for cash in consumption, which has long been rooted in the consumption habits of Vietnamese people.
And a difficulty that cannot be overcome in the future is the problem of Vietnam's per capita income is still too low, the use of cards is considered a luxury and unnecessary.
Currently, Vietnam cannot consider cards as a universal means of payment. Hopefully in the future, with the improvement of living standards and effective marketing activities of the bank, card services will be no stranger to customers.
the majority of the people.
  Difficulties in developing a network of card-accepting establishments
Although the number of card-accepting establishments has increased over the years, it still faces many difficulties, the reason being that VietABank is a relatively small bank, the number of machines is still limited, and the economic potential is not enough. enough to compete with big banks holding a large market share in cards such as Vietcombank, Agribank, Vietinbank, etc.
  Investment capital in technology is quite high
From card production to card payment operations, banks must have modern equipment. Currently, VietABank is still buying blank blank cards from partner companies with an average price of 3-4 USD/card. Because chip cards are now mainly used to ensure the safety of users, the cost for each white card is somewhat more expensive than the plastic card that used only magnetic tape in the past.
In addition, most card readers and ATMs have to import spare parts. This requires a relatively large amount of capital.
So:
-  The number of automatic teller machines (ATMs), the network of card acceptance units (POS) is still very small, mainly concentrated in big cities and urban areas.
-  The problem of information security has not met the requirements, potential risks for both customers and banks because of online banking services , which require very high safety and security.
-  The international credit card service system is still inadequate and difficult to manage. As well as card payment, there are many limitations: the number of payment cards that can be made on POS/EDC machines is still small.
  Some difficulties related to current foreign exchange management policy
onion
Card usage limit: with the revolving limit mode, it is very difficult to manage the cardholder's foreign currency spending. When the limit is used up, they can pay with the bank and immediately the limit reverts back to the way it was.
Moreover, currently we do not have a regulation on declaring when carrying a card
international payments for exiting Vietnam.
Issuing international credit cards means accepting to freely convert between VND and USD without permission, which greatly affects the control of the amount of foreign currency that individuals can bring abroad. .
  There are still many potential risks:
Card is no longer a new business in Vietnam in general and VietABank in particular, but there are still many potential risks in the card issuance and payment stages; may be taken advantage of by participants such as cardholders, CSCNTs, card issuance and payment agents, and bank staff; especially currently being targeted by international card crime groups.
3.3.3.2 Subjective causes
First: Card business policy:
The card business policy is not customer-oriented, especially the bank's customer care policies and product promotion are still weak, showing:

 Advertising activities are still fragmented, without an overall strategy.

 Branches have not been proactive in introducing and promoting card products to customers.

 Moreover, CSCNT mining activities and cardholders are weak:

 Marketing staff at the Card Center as well as at the branch are too thin, have to take on many jobs, so they have not brought into full play their potential.

 The implementation of distribution channels and agents still has many shortcomings in terms of mechanisms as well as potential risks.

 Branches have not been active in building incentive programs on their branches because of limitations in funding as well as operating model.

 Customer care before, during and after the sale is still weak.
Second: The organizational model is not suitable
At VietABank's branch, there has not been a specialized card department, staff have to take on many jobs, so they do not focus on card development; Passive in exploiting and taking care of customers, expertise is not high.... Leads to VietABank's card services in general not developing in accordance with its inherent size and position. Financial and non-financial policies to encourage branches to focus on card development.
Third: The business process of card issuance and payment is complicated
The card issuance usually takes place according to the customer - branch - Card Center - branch - customer cycle, leading to the receipt of card products takes 3 to 5 days.
Fourth: The card technology system has many shortcomings
VietABank is passive about card technology: Most of VietABank's debit and credit card systems are concentrated at the Card Center, the branch is completely passive when having technical problems. While the quality of the transmission line is not good, the quality of payment devices is not high, so the branch cannot proactively solve it, leading to the situation of dead and broken machines that cannot serve customers 24/24h.
Technical support system has not been adequately invested: Most of VietABank has only focused on investing in technology for product and service development, but has not paid much attention to technology investment for customer management.
Fifth: Not focusing on staff training and human resource development:
Card training activities at VietABank currently only focus on disseminating specific business processes, staff mainly train themselves by studying documents and discussing with colleagues. thoroughly trained. When there is a new program or profession, only 1 or 2 staff representatives are sent for training and then communicated to the staff who did not go to the training, this is often ineffective because these staff are often not capable. communication ability. Human resource development has also not been properly invested.
Sixth: Card products are simple, not many attractive utilities:
Card products are few and have not had attractive differences  . The collection of fees through banks of service providers such as tax, customs, and petrol is also on the sidelines.
Conclusion of chapter 3
Through analyzing and evaluating the current status of payment cards at VietABank, it shows that after a period of operation, VietABank has obtained many encouraging successes, contributing to affirming the brand of products and services in the market. correctness in the direction of expanding and developing bank card services.
However, in the process of operation, VietABank's cards have gradually revealed many inadequacies. Therefore, it is necessary to provide solutions and proposals for the purpose of rapidly developing bank card services, bringing great benefits to individuals, each cardholder and the economy, and at the same time, hope that This solution will contribute to improving VietABank's competitiveness compared to other banks, and prepare well for regional and world economic integration conditions in the coming time.
4 CHAPTER 4‌
RESEARCH METHODS AND RESEARCH RESULTS
4.1  Research Methods
The author uses qualitative methods in the process of researching the topic, mainly applying statistical methods, synthesizing and comparing actual data related to card services of Viet A Commercial Joint Stock Bank.
Based on the results of analysis, applying knowledge and practical experience to make judgments and assessments about the development of card services of Viet A Commercial Joint Stock Bank.
4.2  Customer evaluation of VietABank card service
4.2.1 General characteristics of current customers of VietABank according to survey results:
  Age and gender:
AGE
| | | |
| --- | --- | --- |
| Age | Quantity | Percent |
| Under 20 | first | first |
| From 20 to 35 | 40 | 40 |
| From 35 to 50 | 51 | 51 |
| Over 50 | 8 | 8 |
| Total | 100 | 100.0 |
Maybe you are interested!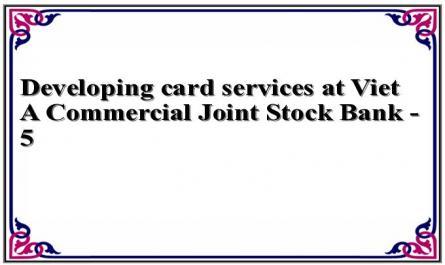 SEX
| | | |
| --- | --- | --- |
| Sex | Quantity | Percent |
| male | 58 | 58 |
| Female | 42 | 42 |
| Total | 100 | 100.0 |
The majority of customers are in working age, mainly from 20-50 years old, the number of customers in this age group accounts for 91% of the total customers of the bank, of which 58% are male. Banks are less oriented towards people under 20 years old and over 50 years old because they have little need to use cards.
  Income:
INCOME
| | | |
| --- | --- | --- |
| Income | Quantity | Percent |
| From 1 - < 3 million VND | 5 | 5 |
| From 3 - < 5 million VND | 42 | 42 |
| From 5 - < 10 million VND | forty six | forty six |
| Over 10 million VND | 7 | 7 |
| Total | 100 | 100 |
The income of current customers of Viet A Bank accounts for the highest percentage: 88% is from 3-10 million VND/month.
  Occupation:
JOB
| | | |
| --- | --- | --- |
| Job | Quantity | Percent |
| Student | ten | ten |
| Officer | 50 | 50 |
| Company pays salary | 21 | 21 |
| Professional career | 9 | 9 |
| other | ten | ten |
| Total | 100 | 100 |
About 50% of customers are office workers, the rest are from other professional professions, mainly customers of salary paying companies, accounting for more than 20% and students and other professions. account for nearly 30%.
4.2.2 Statistics of survey results:
| | | | | | | |
| --- | --- | --- | --- | --- | --- | --- |
| STT | STATED | first | 2 | 3 | 4 | 5 |
| first | Viet A Bank will deliver the card to you at the scheduled time | 0 | first | 4 | 4 | 91 |
| 2 | Bank's card products are diverse to suit your needs | 5 | 35 | ten | 30 | 20 |
| 3 | Do you use your card the most for cash withdrawal? | first | 49 | 5 | 44 | first |
4

NH's card has many utilities

0

first

first

25

seventy three

5

The bank has instructions on how to use the card, how to secure the card, and full card services

enough for you

2

13

5

33

47

6

Fast and accurate card issuance process

5

20

15

40

20

7

Merchants fully understand and perform well the card payment for

Siblings

ten

38

2

41

9

8

When you have questions or complaints, NH always solves them satisfactorily

6

14

8

45

27

9

Bank's interest and fees are suitable to your preferences

first

8

first

thirty first

59

ten

The ATM/POS system is always working well (the system is not faulty, the transaction is always successful, the withdrawal is short ...)

25

45

3

26

first

11

Payment for all basic services (electricity, water, telephone…) of many suppliers

first

14

5

33

47

twelfth

Cash withdrawn from ATM/POS of high quality (no tearing or money

fake…).

2

13

5

32

48

13

The bank has many promotional policies to attract you

4

17

5

30

44

14

Bank Viet A staff quickly opened an account for

siblings

2

27

first

45

25

15

The transaction is done quickly after receiving the order.

5

40

2

38

15

16

The ATM/POS system is always ready for you to do

transaction

7

48

5

27

13

17

You can easily change your personal password (PIN)

2

13

5

32

48

18

Location of ATM/POS machines is convenient and easy to reach

first

8

first

thirty first

59

19

You can make transactions at many ATMs/POSs of SMALLS

other

first

14

5

33

47

20

NH staff always behave politely and courteously to you

5

8

first

thirty first

55

21

NH staff has enough knowledge to answer your questions

16

44

8

20

twelfth

22

NH staff is very professional

15

forty six

7

22

ten

23

Bank can control the transactions in the account

3

7

0

43

47

24

NH always protects the information on your card (password…)

3

8

first

thirty first

57

25

ATM booths are arranged independently, no one can access while performing

show transaction

14

26

4

36

20

26

Viet A Bank has modern equipment

first

18

first

thirty first

49

27

Employees of NH Viet A have neat and polite clothes

first

14

5

33

47
4.2.3 Characteristics of customers' card transactions
Unlike in the past, cards were mainly used to withdraw cash, accounting for more than 90% of card transactions. Currently, cardholders also use cards to pay for goods and services and perform other non-cash transactions. The rate of using cards to withdraw cash is still high, about 50% of total card transactions, mainly cardholders of salary-paying companies in industrial zones, the rest mainly use medium-sized cards. to withdraw cash, both to pay for goods online or to make purchases at card-accepting establishments. The transfer from bank to bank via card is increasingly expanding and convenient for customers with instant transfer time, preferential fees, customers do not have to go directly to the bank to transact. can be done anywhere via the internet. After the implementation of instant money transfer via card,
4.2.4 The degree of influence of some factors on the development of card services at VietABank
Among the objective factors affecting the development of card services at banks in general, consumption habits and age are the most influential. In the past, Vietnamese people, especially the elderly, were still very unfamiliar with using a card, they often preferred to use cash simply because they were afraid of approaching new things. Worried about not understanding, afraid of risks, etc. However, today, realizing the convenience and safety of cards, anxiety has also decreased and consumption habits have gradually changed. Income doesn't matter much anymore because nowadays the cost to own a VietABank card is very low, because usually the first year is free of annual fee and free of charge for all types of transactions for cardholders, the amount required to maintained in the account only 50,000 VND/card.
get yourself a card. The remaining factors are of a macro nature and are increasingly being improved to create conditions for banks to develop.
As for subjective factors, the factor Economic potential, technical, technology and card convenience is the factor that has the greatest influence on the ability to develop card services at Viet A Bank, the more modern technology is, the more likely it is. The more modern it is, the more secure and fast transactions are ensured, strictly controlled to minimize the risks when incidents occur. Besides, the factor of prestige is equally important, customers often look to a bank with the first criterion being Prestige, a bank that does business based on reputation mainly and Viet A Bank is a step to build a reliable brand for themselves, customers appreciate this very much in Viet A Bank and that is also the reason they always accompany the Bank over time.
4.2.5 Customer evaluation of VietABank card service through a number of criteria
4.2.5.1 Staff
Through the survey of customers coming to the transaction, the majority of customers think that the card service staff is professional, knowledgeable, enthusiastic and friendly to customers. Currently, Viet A Bank Card Center has a 24/7 switchboard to record customer feedback as well as answer questions and handle complaints in customer card transactions. The staff of this switchboard department is highly appreciated by customers for responding promptly and quickly to customers' needs.
4.2.5.2 Reputation, brand, and technology of the Bank
Since its operation until now, customers have always believed in the prestige and brand of Viet A Bank. Although not a big bank, VietABank always focuses on the quality of its services by improving and improving the technology system to best meet the needs of customers.
Date published: 10/04/2022