Ensuring loans to the right audience to apply appropriate lending interest rates, thus increasing financial capacity (Strengthening retail lending), limiting lending to risky areas such as pawnshops , loans to buy means of transport etc.
Actively deploying products and services. Bringing VPBank 's products and services with high professionalism, developing both quantity and quality of operations, reflected in versatility, stability and efficiency.
Well organized payment activities, overseas remittance, L/C opening, money transfer service, foreign currency deposit attraction, bid guarantee, contract performance guarantee, payment guarantee…. increase service revenue.
Continue to organize for employees to study and train to improve their professional capacity to identify and use products to understand about products and services, thereby being able to introduce and promote to specific customers. more clearly and accurately about the features and utilities of VPBank's products and services, increase cross-selling of products, strive for 01 customer to come to VPbank to use many products and services of the Bank.
3.1.4.2 Solutions on distribution channels
Continue to expand and develop the network to districts and towns with potential for economic development in the area such as: Huong Son, Thach Ha, Can Loc or Cam Xuyen district, etc.
Associate with partners and customers to cross-sell products and services according to a horizontal integration strategy. Quick access to large enterprises in Ha Tinh to create mutually beneficial business cooperation relationships.
Associate with direct competitors to cooperate in serving customers whose capital needs are greater than the capacity of VPBank Ha Tinh Branch. Apply a horizontal matching strategy to banks that are not direct competitors. In addition, VPBank Ha Tinh Branch should allow these banks to join the ATM system, foreign currency exchange agents, international card payments, travelers checks, etc.
3.1.4.3 Solutions to improve sales efficiency and service quality management.
Maybe you are interested!
Once the product packages have been built as mentioned in the product solutions section, the marketing organization is very important.
The preparation is that each unit (branch and transaction office) makes a list of existing customers for each group of businesses and individuals, and the business is divided into many small groups for each product package for that small group. such as: Group of import-export customers, group of customers who are distributors, group of customers who are administrative and non-business organizations with income, etc. Besides, the units must make a list of potential customers. are doing transactions at your banks, collect information of this customer group: which bank are they dealing with? What products? What is the mechanism?…
After preparing the package of products, services and a list of existing and potential customers, the unit should organize the sales as follows:
For existing customers, salespeople are customer relations officers, consultants, and tellers. Employees will provide and introduce the products and services in the product package for them when they have not used all of those products, so customers will easily understand the product and the utility of each type of product. product, so it will be easier to use.
For the group of potential customers, the members of the product research and development and marketing team should be the contact point because this is a large customer group, the person in contact with customers must know the absolute products. and thus will limit mistakes when working with customers.
In addition to direct product introduction, VPBank Ha Tinh Branch should continue to implement programs to promote and introduce its image through television, radio, scholarship sponsorship programs, and other programs. local study promotion programs, building houses of gratitude for Vietnamese heroic mothers, families of martyrs or poor households in districts, towns, cities, or sponsoring benches, football tournaments… and especially through the service quality of the young, dynamic and professional staff.
3.2. Some recommendations
3.2.1 Proposing to the State management agencies and the State Bank of Vietnam intellectual products… to make the capital movement of investors easier.
– Accelerate the process of building the legal system: create a stable, synchronous, effective and transparent legal corridor. To develop an equal economic market for all natural and legal persons of all economic sectors.
Expeditiously study and soon issue legal documents governing new financial operations prescribed in bilateral and multilateral international trade agreements.
According to the roadmap of Vietnam after joining the WTO, the regulations on the quality of operations of banks must be applied in accordance with international practices, the State Bank should develop stricter regulations for the operation of banks. safe and effective industry.
– It is necessary to review the operation of commercial banks at present, in order to reorganize the activities of banks to avoid the phenomenon of small banks mobilizing capital with high interest rates "surpassing" to disrupt the interest rate market. normally cause great damage to honest banks such as VPBank Ha Tinh and adversely affect the economy.
3.2.2 Recommendations to VPBank Head Office
To become the leading retail banking brand in Ha Tinh and achieve the desired business results, it is necessary to have synchronous solutions from the central to the local. VPBank needs to improve policies, mechanisms and allocate resources in line with the set strategic development orientation.
– VPBank soon completed the rules on customer standards, building a common customer strategy for the whole system. Especially for customers who are large corporations, operating in many localities. VPBank – The Government and localities need to continue to further promote solutions to attract investment and promote economic growth: implementing investment incentive policies, promoting investment invitations, perfecting the system infrastructure, human resource development, equal treatment for all economic sectors, trade promotion, export support, socio-political stability, expansion of cooperation with other countries, participation regional and international markets…
– Implement solutions to stabilize economic policies, reduce risks to the business environment for enterprises: Stabilize the macro-economy, policy on interest rates, currency, tariffs; low inflation; budget balance, import-export balance; anti-smuggling, commercial fraud, copyright protection; effective administrative reform.
Timely respond to the registration and recognition needs of assets of citizens and businesses: licensing, registration, making as-built documents, granting ownership certificates; To create favorable conditions and an adequate legal corridor for the markets of land, real estate, business transfer, valuable papers, the Head Office needs to coordinate with branches to develop policies and market to these businesses. Thereby, helping to improve the overall service efficiency for each customer.
– There should be a support policy in the early years when the branch expands its network (increasing advertising spending, capital, staff, facilities, equipment system…).
– Regular implementation of training programs, implemented at many levels. Parallel to the training is a periodical professional examination to find good employees to motivate and promote to higher positions when given the opportunity, as well as to detect poor employees for retraining. .
– There is a plan to develop a team of marketing staff. Marketing staff must understand many banking operations. VPBank needs to step up training and retraining to meet the requirements of competition and integration. Financial support and encouragement of staff to attend classes to improve professional qualifications, foreign languages, informatics, etc. Pay attention to educating staff both in terms of expertise, professional ethics and sense of organization and discipline. Training must go hand in hand with employing, treating and attracting talents.
Having a reasonable and attractive remuneration regime, creating a breakthrough in linking income with work efficiency, increasing the working efficiency of employees. Implement an open and transparent financial mechanism.
– Continue to rearrange and screen staff, appropriately use the individual's capacity and forte. Boldly employ and appoint young, well-trained, professional staff who love the industry, love the profession, and have good moral character to key positions of the bank.
– The assignment of plans to branches should be consistent, avoiding changes in plan targets and emulation targets in the fiscal year.
– VPBank Headquarters should develop a price policy (loan interest rates, deposit rates, fee schedules, gold prices, foreign currencies, etc.) with a flexible margin so that branches can be proactive in sales.
– Develop preferential price policy for VIP customer system.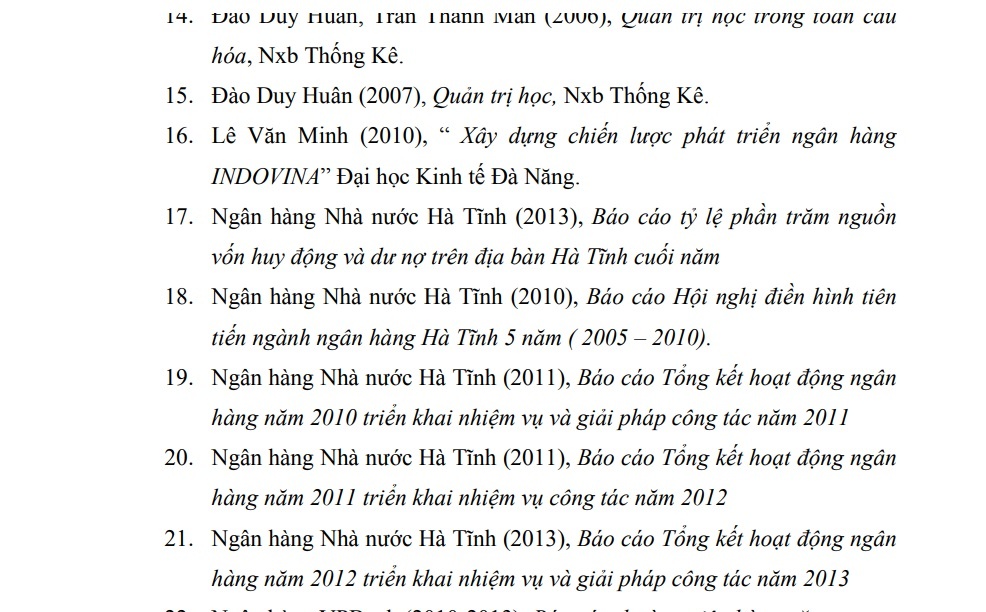 – In the context of economic difficulties and bad debts of the banking sector increasing, VPBank needs to focus on building a stronger risk management professional foundation. Good risk management, developing many useful financial products for individual customers, will build higher trust in the market, building a solid foundation for future development.
CHAPTER 3 SUMMARY
In the current trend of economic globalization, for VPBank branch Ha Tinh branch in particular, besides the advantages created as a premise, VPBank Ha Tinh branch also faces many difficulties and challenges. new challenge. Especially in the area, more and more newly established banks become rivals with very high competition. To overcome these difficulties, the writer has proposed some specific solutions, however, in order for the solutions to come into practice, it requires the consensus, coordination and efforts of the staff of VPBank Branch. Ha Tinh, the direction of VPBank, the State Bank as well as other agencies. CONCLUDE
In recent years, Vietnam's banking and finance industry has experienced a leap forward development. Operating from this field has brought banks great profits, including VPBank in general and VPBank Ha Tinh in particular. However, in the current context, the banking and finance sector will continue to be eventful and volatile. In order to survive and develop in the future, VPBank Ha Tinh Branch needs to consciously determine its position in the market, define strategies in each period and thoroughly implement business solutions. In particular, the bank also needs to build for itself a mission to act as a "guideline" for all activities.
Within the framework of this research, the thesis tries to come up with strategies and solutions to realize the vision to 2020. With the capacity and enthusiasm of the bank's Executive Board, it is firmly believed that VPBank Hanoi Branch Tinh can completely carry out the revolution in the future to bring the ship VPBank Ha Tinh Branch to its goals on time.
Despite our best efforts, due to limited information and personal experience, the thesis is hard to avoid shortcomings. Therefore, the problems raised and solved by the thesis need to be further researched and developed. We look forward to receiving your comments and suggestions.
REFERENCES
Vietnamese
1. Nguyen Thi Lien Diep, Pham Van Nam (2006), Business Strategy and Policy, Labor – Society Publishing House, Ho Chi Minh City.
2. Nguyen Thi Lien Diep, Pham Van Nam (2010), Business Strategy and Strategy, Social Publishing House.
3. Pham Van Duoc, Dang Thi Kim Cuong (2005), Analysis of business activities, General Publishing House of Ho Chi Minh City.
4. Nguyen Thanh Do, Nguyen Ngoc Huyen (2007), Business Administration Volume 1, National Economics University Publishing House, Hanoi.
5. Nguyen Thanh Do, Nguyen Ngoc Huyen (2007), Business Administration Volume 2, National Economics University Publishing House, Hanoi.
6. Hoang Minh Duong, Nguyen Thua Loc (2006), Textbook of Commercial Enterprise Administration, Labor – Social Publishing House, Hanoi.
7. Pham Thi Gai (2004), Textbook of business analysis, Statistical Publishing House, Hanoi.
8. Nguyen Duy Gia (2009), Strategic Banking Management, Education Publishing House.
9. Ngo Dinh Giao (1997), Business Administration Technology & Service Business Administration of Enterprises, Education Publishing House, Hanoi.
10. Ngo Dinh Giao (1997), General Business Administration in Enterprises, Science and Technology Publishing House, Hanoi.
11. Hoang Van Hai (2010), Strategic Management, Hanoi National University Publishing House 12. Duong Huu Hanh (2004), Corporate Governance, Statistical Publishing House, Ho Chi Minh City.
13. Nguyen Thanh Hoi, Phan Thang (2001), School of Management, Statistical Publishing House, Hanoi.
14. Dao Duy Huan, Tran Thanh Man (2006), Governance in globalization, Statistical Publishing House.
15. Dao Duy Huan (2007), Management Studies, Statistical Publishing House.
16. Le Van Minh (2010), "Developing strategy for development of INDOVINA bank" Da Nang University of Economics.
17. Ha Tinh State Bank (2013), Report on the percentage of mobilized capital and outstanding loans in Ha Tinh province at the end of the year 18. State Bank of Ha Tinh (2010), Report of the conference to fill in the form. advanced banking industry in Ha Tinh 5 years (2005 – 2010).
19. State Bank of Ha Tinh (2011), Summary report on banking activities in 2010, implementation of tasks and solutions in 2011 20. State Bank of Ha Tinh (2011), Summary report on activities banking activities in 2011 implementing tasks and working tasks in 2012 21. Ha Tinh State Bank (2013), Summary report on banking activities in 2012 implementing tasks and working solutions in 2013 22. Bank VPBank (2010-2013), Annual Report 23. VPBank HaTinh Branch (2010-2013), Annual Business Performance Report 24. Nguyen Bach Nguyet (2000), Curriculum for preparation and Investment project manager, Hanoi Statistical Publishing House.
25. Le Van Tam (2000), Textbook of Strategic Management, Statistical Publishing House, Hanoi.
26. Le Van Tam, Ngo Kim Thanh (2004), Textbook of corporate governance, Labor and Social Publishing House, Hanoi.
27. Nguyen Huu Than (2004), Human Resource Management, Statistical Publishing House.
28. Nguyen Huy Tien (2011), Celebrating the 60th Anniversary of Vietnam's Banking Industry, Ha Tinh Banking Magazine in May 2011.
English
29. Arthur A. Thompson, Jr., AJ Stricland III (1997), Strategic Management: Concepts and Cases, Mc Graw Hill.
30. Fred R.David (2006), Thesis on strategic management, Statistical Publishing House, Hanoi.
31. Garry D. Smith (1998), Strategy and Business Policy, Statistical Publishing House, HCMC.
32. Michael E.Porter (2009), Competitive Strategy, Young Publishing House, HCMC.
33. Michael Hammer, James Champy (Translated by Vu Tien Phuc) (1999), Re-establishing a company, City Publishing House. Ho Chi Minh 34. Philippe Lasserre, Joseph Putti (1996), Business and Management Strategy, Volume I, National Political Publishing House, Hanoi, 35. W. Chan Kim, Renee Mauborgne (Translated by Phuong Thuy) (2007) ), Blue Ocean Strategy, Knowledge Publishing House, Hanoi.
Website
36. http://dantri.com.vn
37. http://vnexpress.net
38. http://mof.gov.vn,
39. http://vpb.com.vn.
40. http://kmpg.com
Date published: 01/11/2021