CHAPTER 1: GENERAL ISSUES ABOUT BANKING AND BANKING SERVICES
1.1 Overview of commercial banks
1.1.1 Concept of commercial banks
At present, there are some concepts of commercial banks as follows:
According to the Law on Credit Institutions passed by the Xth National Assembly on December 12, 1997, it defines: "Commercial bank is a type of credit institution that can carry out all banking and other activities. other related action. This Law also defines: A credit institution is a type of enterprise established in accordance with this Law and other provisions of law to conduct monetary business and provide banking services with the content of receiving money. deposit and use deposits to extend credit and provide payment services".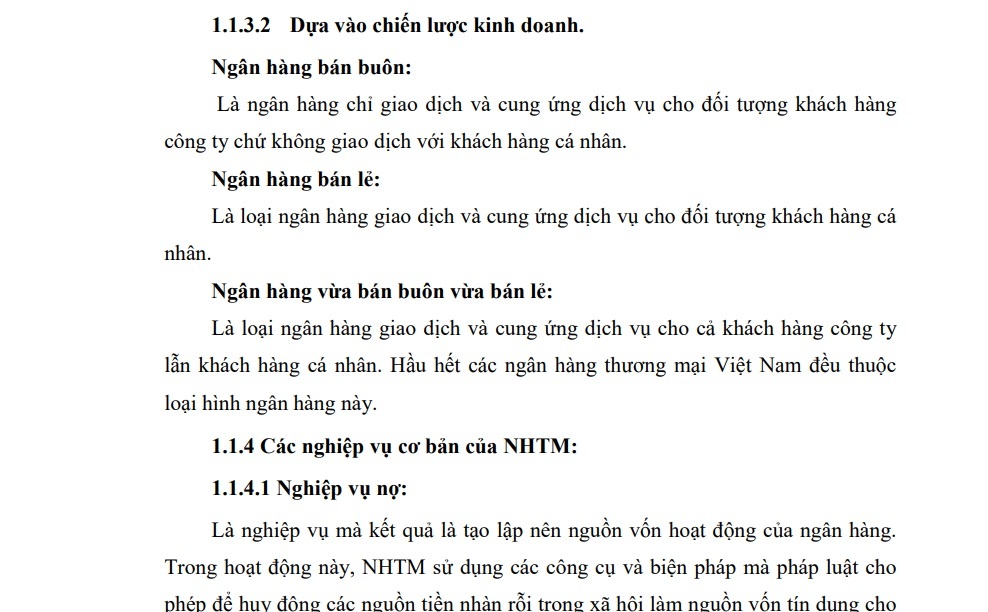 According to Clause 3- Article 4 of the Law on Credit Institutions (Law No. 47/2010/QH12): "A commercial bank is a type of bank that is entitled to carry out all banking activities and other business activities in accordance with this Law in order to profit target". In which, "Banking activities are business and regular provision of one or several operations: receiving deposits, granting credit, providing payment services through accounts".
Thus, it can be said that commercial banks are the most important intermediary financial institutions in the market economy. Thanks to this institutional system, idle money sources will be mobilized, creating a large source of credit capital to be able to lend to economic development.
1.1.2 Functions of commercial banks
Maybe you are interested!
In general, commercial banks have 3 basic functions:
Financial intermediary function: includes credit intermediaries and payment intermediaries between businesses in the economy.
Money creation function: that is, the function of creating currency pen contributes to increase the monetary volume to serve the needs of circulation and economic development.
The "production" function: includes the mobilization and use of resources to create products and services that banks provide for the economy.
1.1.3 Classification of commercial banks
1.1.3.1 Based on ownership form
State commercial banks:
Being a commercial bank with capital investment by the State, establishment and organization of business activities, contributing to the realization of the State's economic goals.
Governance of the State Commercial Bank is the Board of Directors appointed and dismissed by the Governor of the State Bank after reaching agreement with the Organization and Personnel Department of the Government.
Managing the operations of the State-owned commercial bank is the General Director. Supporting the General Director are Deputy General Directors, Chief Accountant and professional apparatus.
Joint-stock commercial bank:
A commercial bank established in the form of a joint-stock company, in which State-owned enterprises, credit institutions, other organizations, and individuals jointly contribute capital in accordance with the State Bank's regulations.
Joint-venture bank:
A bank established by capital contribution of Vietnamese and foreign parties on the basis of a joint venture contract. Joint Venture Bank is a Vietnamese legal entity with its head office in Vietnam, operating under Vietnamese law.
Foreign bank branches:
Being a dependent unit of a foreign bank, guaranteed by the foreign bank to be responsible for all obligations and commitments of the branch in Vietnam. Foreign bank branches have the rights and obligations prescribed by Vietnamese law, operate under the branch opening license and relevant provisions of Vietnamese law.
1.1.3.2 Based on business strategy.
Wholesale bank:
A bank that only deals and provides services to corporate customers, not individual customers.
Retail banks:
A type of bank that deals and provides services to individual customers.
Retail and wholesale banks:
A type of bank that deals and provides services to both corporate and individual customers. Most Vietnamese commercial banks are in this type of bank.
1.1.4 Basic operations of commercial banks:
1.1.4.1 Debt operations:
A transaction that results in the creation of a bank's working capital. In this activity, commercial banks use tools and measures permitted by law to mobilize idle money in the society as a source of credit for lending to the economy.
Capital mobilization activities of commercial banks include: receiving deposits, issuing valuable papers, borrowing capital, and mobilizing other capital.
1.1.4.2 The profession has:
The use of the bank's capital, including principal operations such as lending and investment.
1.1.4.3 Banking service business.
A transaction that commercial banks perform under the authorization of customers to enjoy fees, including:
+ Payment services, collection and payment for customers.
+ Financial consulting
+ Preserving valuable assets, important documents…
+ Trading in foreign currency, gold and silver…
1.2 The concept of banking services, development of banking services.
1.2.1 The concept of banking services
Currently, there are many service concepts, here are some of them.
Philip Kotler, the world famous Marketing professor defines a service as follows: "A service is any action and result that one party can provide to another and is essentially intangible and does not result in ownership. something. Its product may or may not be tied to a physical product. A bank itself is a type of money service business, collecting fees from customers, and is considered a service industry. Banking activities do not directly create specific products, but by meeting the needs of services in terms of money, capital, payment… for customers, banks have indirectly created products. services in the economy".
The Law on Credit Institutions in Clauses 1 and 7, Article 20 of the phrase: "currency business and banking services: covers all three contents: receiving deposits, providing credit and providing services. pay. More specifically, banking services are understood as banking operations on capital, currency, payment, etc. that banks provide to customers to meet the needs of profitable business, daily life, and asset storage. … and the bank collects the difference in interest rates, exchange rates or charges through that service.
In the current trend of banking development in developed economies, the bank is considered as a service supermarket, a financial department store with hundreds or even thousands of different services depending on the classification. and depending on the level of development of the bank.
In our country, up to now, there is no clear definition of the concept of banking services. There is a perception that: banking services are not within the scope of monetary business, and professional activities according to the function of a financial intermediary (lending, deposit mobilization, etc.) The above content is called banking service.
Some argue that the profitable activities of commercial banks besides lending activities are called service activities. This view clearly distinguishes credit activities, a traditional and major activity of Vietnamese commercial banks in recent years, from service activities, a new activity that has just begun to develop in our country.
Such a distinction in the current trend of integration and opening of the financial services market allows the bank to implement a strategy of focusing on diversifying, developing and improving the efficiency of non-credit activities. The second point of view is that all professional activities of a commercial bank are considered service activities.
Bank is a type of business dealing in money, providing services to customers. This view is consistent with international practices, in line with the classification of service subsectors in the draft WTO agreement that Vietnam has committed to and negotiated during the accession process, and in line with the content of the trade agreement. Vietnam-US trade. In the classification of economic sectors of the General Statistics Office of Vietnam, the banking sector is classified in the service sector.
1.2.2 The concept of developing banking services
Development of banking services is the expansion of the quantity and improvement of the quality of banking services in order to better satisfy the needs of customers on the basis of ensuring the objectives of the bank.
1.3 Types of banking services
1.3.1 Traditional banking services
1.3.1.1 Capital mobilization
Is the activity of receiving money from organizations and individuals in the form of demand deposits, time deposits, savings deposits, issuance of certificates of deposit, promissory notes, bills, bonds and other forms of deposit. receive other deposits on the principle of fully returning principal and interest to depositors as agreed. In particular, demand deposit is a type of deposit that customers can deposit and withdraw at any time.
Demand deposits include demand deposits and savings, the purpose of this deposit is to serve payment transactions such as money transfer, salary payment via account, cash withdrawal from ATMs. … Due to the instability, the interest rate of this type of deposit is quite low. In contrast, savings deposits, certificates of deposit, promissory notes, bills, bonds… are types of deposits that customers can only withdraw on maturity date, the purpose of this type of deposit is to help customers take advantage of idle money for a certain period of time. Due to the stable nature, the interest rate of this type of deposit is quite high.
1.3.1.2 Credit grant
Includes the following key services:
Lending: is a form of credit extension, whereby the lender assigns or commits to hand over to the customer a sum of money to use for a specified purpose within a certain period of time as agreed upon with the principle of repayment. both principal and interest.
– Discount of commercial paper and other valuable papers: means the bank buys commercial papers and other valuable papers that have not yet been due for payment at the request of customers by immediately deducting a certain amount. This is an indirect lending business secured by valuable documents, so credit risk is low.

Date published: 01/11/2021