Solutions to promote the efficiency of consumer lending activities at Saigon Thuong Tin Commercial Joint Stock Bank - 4
Organizational work of the bank: This is a factor that does not directly affect the quality of loans, but if the organization and operation of the bank is not scientific, there is no coordination between departments, then the bank's operations will be unscientific. Bank's business activities in general and credit card activities in particular will not get good results.
Reputation of the bank: It is the image of the bank in the hearts of customers, the trust of customers in the bank. The reputation of each bank is built and formed in a long process. Reputable banks that always win the trust of customers are the premise for boosting the bank's lending performance.
Group of factors belonging to customers
Customer's financial ability: This is the top condition that banks need to consider and evaluate before making a lending decision. Due to the high risk of consumer loans, the bank always focuses on assessing the financial capacity of customers, in order to ensure the repayment of customers' debts in the future, and to ensure safety in business. CVTD. The Bank always tries to attract potential customers with high and stable income, providing them with the most suitable products, thereby ensuring the effectiveness of credit card activities.
Customer ethics: one of the risks that banks often encounter in lending activities, especially in credit card business, is customer ethics. It is very difficult for banks to collect information and assess the ethics of individuals and households who have the need to use credit card services. Banks normally limit the amount of loans to new customers who do not have a relationship with the bank. If borrowers can demonstrate good ethical qualities and build trust with the bank, they will have the opportunity to borrow a larger amount of money, which means contributing to promoting the effectiveness of credit card activities for borrowers. Bank.
Collateral: In order to minimize possible risks, the value of special assets is the basis for the bank to set a credit limit for each loan, so it determines the bank's loan turnover. Proper and reasonable fixed asset valuation is an important requirement when determining the loan amount in order to ensure the safety and income of the bank as well as to best satisfy customer needs.
Consumer consumption trends: This is the basis for the bank to develop products and services, one of the measures to promote credit card. The more customers tend to consume expensive goods, the more the demand for consumer loans increases, the more conditions banks have to promote credit card. Major changes in customer consumption trends can have a positive or negative impact on credit card activities. Therefore, bank credit officers must always study the tastes and consumption trends of customers in order to make adjustments, change forms as well as develop new loan products accordingly.
1.2.3.2. The objective factors
Economic environment
Maybe you are interested!
Lending activities of commercial banks in general and credit card activities in particular are greatly influenced by the economy. A developed and stable economic environment can facilitate the expansion of loan scale, and the efficiency of lending activities is also improved. If the economy is in a stage of development, good growth, political stability in the country, and there is no war, the demand for consumer loans of individuals and households will increase. Consumers will be assured of their income level and thus, the ability of consumers to generate greater consumption demand, consumer lending activities also have a better chance to develop. On the contrary, an underdeveloped economy, high inflation, and unstable political situation will make the consumption demand of individuals and households only stop at a sufficient level and will make business activities more difficult. Credit portfolio of commercial banks is underdeveloped. In addition, the economy has unexpected fluctuations such as high inflation, falling real interest rates, and exchange rate changes, which will make the bank's operations unstable and appear many risks. Therefore, banks must do well in forecasting and quickly adapting to changes in order to ensure effective credit card operations.
Legal environment
All activities in society are governed by the laws set forth by the State.
In credit card activities, too, both banks and customers must strictly comply with the regulations of the State Bank. A stable, complete, synchronous, flexible and clear legal system will be the basis for the bank to build an effective business plan, ensure a healthy competitive environment, and create a playing field. equality among commercial banks. In addition, the State's policies, especially economic policies, also have a significant impact on credit card activities of commercial banks.
Social and cultural environment
The socio-cultural environment includes factors such as customs, habits, habits of using banking services, savings rate, education level, tastes of the population… factors that directly affect the behavior and needs of customers for credit card activities of the bank. Specifically, in an environment where people have a habit of spending more than saving or tend to consume high-value goods, conditional credit card services are expanded. Or in a society with a high level of education, people have easy access to banking technology and easy access to banking services. People's psychological problems also greatly affect their behavior and demand for banking products. Studying socio-cultural factors not only to clearly determine their impacts on the behavior of using banking services and choosing banks of consumer borrowers, but also to help bank officials have a appropriate behavior in dealing with customers.
Bank's competitors
Currently, when lending to businesses is facing many difficulties, it is inevitable that commercial banks begin to focus on credit card activities. In a competitive environment, banks have loosened the credit mechanism more in parallel with diversifying their credit card products and services to meet the increasing demands of customers. In addition, learning about competitors to have reasonable business strategies is also what the bank must do to be able to stand and develop.
SUMMARY OF CHAPTER 1
The entire chapter 1 is the basic theory about lending in general, consumer lending in particular and promoting the efficiency of consumer lending activities in commercial banks. From general issues about consumer lending to specific issues such as: Concept, object, characteristics, role of consumer lending or lending processes, methods and classifications consumption. Besides, chapter 1 is also a theoretical basis for how to study the actual status of the efficiency of consumer lending activities, which will be presented in the next chapter.
CHAPTER 2. SITUATION OF CONSUMER LIVING ACTIVITIES AT SAIGON TRADING TIN CORPORATE JOINT STOCK BANK HANOI BRANCH
2.1. Overview of Saigon Thuong Tin Commercial Joint Stock Bank – Hanoi Branch
2.1.1. The process of formation and development
Bank name: SAI GON THUONG TIN COMMERCIAL BANK
English name: SAI GON THUONG TIN COMMERCIAL JOINT STOCK BANK
Short name: SACOMBANK
Charter capital: 10,739,676,640,000 VND (December 31, 2012)
Head office: 266 – 268 Nam Ky Khoi Nghia, District 3, Ho Chi Minh City
Saigon Commercial Joint Stock Bank (Sai ​​Gon Commercial Joint Stock Bank), abbreviated as SACOMBANK, was established in 1992 under the Establishment Decision No. 05/GP – UB of the People's Committee of Ho Chi Minh City. .
On December 5, 1992, the Bank officially came into operation under License No. 0006/GP-NH of the State Bank of Vietnam with a charter capital of 3 billion VND.
Saigon Thuong Tin Commercial Joint Stock Bank (Sacombank) was established on the basis of transformation and merger from Go Vap Economic Development Bank and 3 credit cooperatives (Tan Binh – Thanh Cong – Lu Gia) in Ho Chi Minh City. With the main tasks of mobilizing capital, granting credit and performing banking services, the bank operates mainly in the suburban districts of Ho Chi Minh City. Up to now, after more than 20 years of construction and operation, Sacombank has risen to the top of the joint stock commercial banks in Vietnam with an average growth rate of 64% per year. With a charter capital of only 3 billion VND when established, mainly from the contributed capital of founding shareholders, as of December 31, 2012, the charter capital has increased to about 10,740 billion VND.
With a wide range of products and services, Sacombank has grown strongly in the form of a retail bank with a nationwide network of operations and expanded to Indochina countries including 416 transaction points, including 72 Branch/Transaction Office, 336 Transaction Offices, 1 domestic savings fund; 1 branch, 1 transaction office in Laos and 1 subsidiary bank, 4 branches in Cambodia.
Along with continuous efforts to develop both products and improve service quality, Sacombank has been maintaining the trust of customers, actively contributing to the construction and development of the country. Sacombank has always been ranked A by the State Bank of Vietnam and continuously won major domestic and international awards such as Best Bank in Vietnam, Bank with Best Foreign Exchange Service in Vietnam, Best Retail Bank in Vietnam, etc.
Saigon Thuong Tin Commercial Joint Stock Bank – Hanoi Branch (Sacombank – Hanoi) was established and operated since 1994, is one of the major branches under the Saigon Thuong Tin Commercial Joint Stock Bank; with the initial purpose of building the image of Sacombank in Hanoi and helping pave the way for the formation of a non-cash habit in payments between the two largest cities in Vietnam, and at the same time creating a foundation for Sacombank. Expanding its network of operations across the country. The main activities of Sacombank – Hanoi in the early years were to issue promissory notes to mobilize idle capital from economic organizations and residents, and at the same time to deploy fast money transfer service between Ho Chi Minh City and Ho Chi Minh City. Hanoi. Up to now, after nearly 20 years of operation, Sacombank – Hanoi has developed a variety of banking products and services such as: Mobilizing savings deposits, receiving investment trusts, granting credit to individual customers. and businesses, international payment services, import and export financing, guarantee services, remittance services, domestic payments, treasury services, salary payment via account, financial advice and many other service activities.
The head office of Sacombank – Hanoi is located at 65 Ngo Thi Nham, Hai Ba Trung District, Hanoi City. Currently, the branch's network of operations is increasingly expanding with 5 transaction offices under it: Cho Mo Transaction Office, Bach Khoa Transaction Office, Kim Nguu Transaction Office, Linh Nam Transaction Office. and Ha Thanh Transaction Office with a total staff of over 300 people.
Sacombank – Hanoi's activities are always under the close supervision of Saigon Thuong Tin Commercial Joint Stock Bank. Under the leadership of all levels of Party committees, authorities and superior banks, plus the tireless efforts of the staff, the Branch has promoted its available potential, organized the good business activities, creating a good reputation and image in the hearts of each customer. Products and services are extremely diverse with modern technology and service quality is constantly improved. In addition, the Branch has always followed closely to expand the market and strengthen the capacity of its staff, gradually occupying the exciting and challenging financial and banking market in the area where it operates. The branch in Hanoi in general and especially in the areas around the branch's headquarters in particular, attracts more and more domestic and foreign customers, becoming one of the branches bringing the highest profit to the system. Saigon Thuong Tin Commercial Joint Stock Bank.
2.1.2. Organizational structure
Below is a diagram of the organizational structure of Sacombank – Hanoi.
Diagram 2.1. Organization of operation apparatus of Saigon Thuong Tin Commercial Joint Stock Bank – Hanoi Branch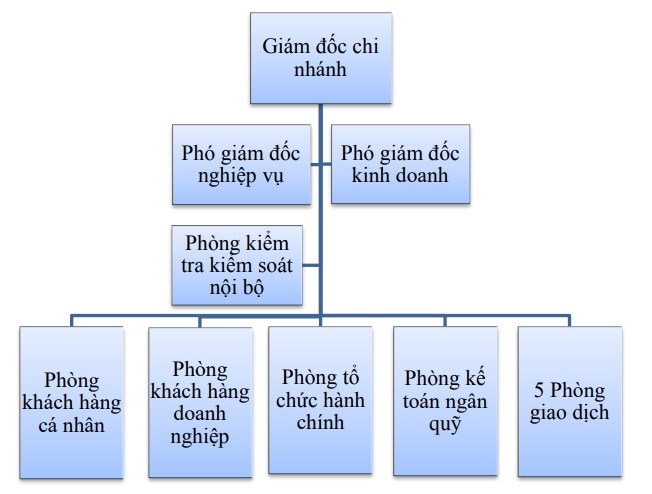 (Source: Office of Administration)
Sacombank – Hanoi operates under the management of the Board of Directors including one Director and two Deputy Directors in charge of departments and assisting the Director. The functions and duties of each division of the branch's organizational structure are as follows:
Board of manager
The Branch Director is the person in charge of performing his/her duties and powers in accordance with the Law and the superior Bank. Responsible for all business operations of the Branch. The Director assigns and authorizes the Deputy Directors to settle and sign a number of documents on issues under his/her competence. The Board of Directors manages the work according to the program and plan set out by the superior bank. The Deputy Director is the person who supports the Director, is in charge of operating a number of business operations of the Branch and is responsible to the Director and to the Law for the performance of the assigned operations.
Personal customer department is a professional department that directly deals with individual customers, has the task of exploiting capital in VND and foreign currencies; perform credit-related operations, manage credit products in accordance with current policies, regulations and guidelines of Sacombank; directly advertise, market, introduce and sell banking products and services to individual customers. The personal customer room has the main tasks:
– Marketing, supporting, taking care of customers, advising customers on products and services of Sacombank – Hanoi: Credit, investment, money transfer, foreign currency trading, international payment , card¼; acting as the focal point to sell products and services of Sacombank – Hanoi to individual customers.
– Appraisal, identification and management of credit limits for individual customers with needs of credit and trade finance transactions; submit to competent authorities for decision in accordance with Sacombank's regulations.
Room business customers
As a professional department that directly deals with customers who are large enterprises, small and medium enterprises, to exploit capital in VND and foreign currencies; marketing, supporting, customer care, advising customers on products and services of Sacombank – Hanoi such as credit, investment, money transfer, foreign currency trading, international payment , card¼; acting as the focal point to sell Sacombank's products and services to corporate customers. In addition, the corporate customer department is also responsible for researching and making suggestions on improving existing products and services, providing new products and services for corporate customers; performing credit operations and processing transactions; manage granted credits, manage special assets according to Sacombank's regulations; carry out import and export business operations according to the granted limit; perform foreign currency trading operations
Transaction
Currently, Hanoi branch has five transaction offices under the branch:
Cho Mo transaction office, Bach Khoa transaction office, Kim Nguu transaction office, Linh Nam transaction office and Ha Thanh transaction office. Transaction offices are responsible for handling transactions for individual customers and economic organizations as follows:

Date published: 01/11/2021