Created as a joke, two virtual coins inspired by the shiba inu dog have now entered the group of 10 largest virtual currencies in the world by market capitalization...
Dogecoin, launched in 2013, is currently ranked 9th according to data from Coinmarketcap.com, with a market capitalization of more than $ 35 billion .
Earlier this week, the Shiba Inu coin, born in 2020, sometimes rose to 9th place with a market capitalization of over $ 38 billion . On November 4, Shiba Inu dropped to 11th place, with a market capitalization of about 32.7 billion USD .
Each Dogecoin is currently priced at $ 0.2686 , and each Shiba Inu is priced at $ 0.00006058 .
Both of these cryptocurrencies, which have skyrocketed in price recently, are constantly swapping positions in the capitalization rating. The Shiba Inu support community says that the virtual currency is a "Dogecoin destroyer". At the moment, Dogecoin seems to have the upper hand, with a gain of more than 13% in the past 1 week, while Shiba Inu has dropped more than 30% in the same time period.
Whether the two communities that support these two virtual currencies want to admit it or not, Dogecoin and Shiba Inu have one thing in common – said Caitlin Cook, virtual currency expert from Onramp Invest, in an exchange with CNBC news agency.
Rely on the power of the community to raise prices
Ms. Cook said that both Dogecoin and Shiba Inu are "inflated" by the support community. "The Dogecoin community and the Shiba Inu community are both very vocal and have a high level of commitment," she said.
"Altcoins (virtual currencies born after Bitcoin) like Shiba Inu are largely community-based, meaning their success depends more on the success and growth of the community, rather than on the community. how useful that virtual currency is," Bone Fide Wealth President Douglas Boneparth told CNBC.
Maybe you are interested!
In the white paper on Shiba Inu, the creator of this virtual currency even calls Shiba Inu an "experiment in decentralized spontaneous community building".
According to Ms. Cook, the rapid price increase of both Shiba Inu and Dogecoin comes mainly from the community's support of "inflating" them. "It is the strength of the community that has repeatedly amplified the bullish dynamics of these cryptocurrencies," she said.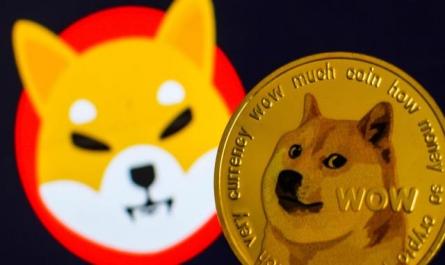 In the communities that support Shiba Inu and Dogecoin there are celebrities like Elon Musk, CEO of SpaceX and Tesla. Musk often posts tweets on Twitter about different cryptocurrencies. In this way, Mr. Musk is said to have a significant influence on the price of virtual currencies.
This year, the price of Shiba Inu has increased several times after Mr. Musk repeatedly posted pictures of his shiba inu puppy on Twitter. However, on October 24, Musk made it clear that he does not own any Shiba Inu, but that he only holds Bitcoin, Ether and Dogecoin.
But in general, the recent rally of the two cryptocurrencies "is mainly based on the strength of the community, and any other virtual currency has a chance to do so if someone has a big influence on it." want to promote that virtual currency," Cook said.
However, since such cryptocurrencies are prone to drastic price movements as commented by some famous people, investing in them becomes a risky business.
Both Dogecoin and Shinu Iba are "highly speculative assets," noted Cook. "They're not long-term investments for most people, and probably most people don't have a long-term reason to hold these cryptocurrencies long-term."
That's because buying Dogecoin and Shiba Inu is seen as a bet on a community rather than a bet on a technology, Cook explained. "It's not a viable product," she said.
Investment channel is not for the "weak of heart"
Experts have warned that any investment in cryptocurrencies can lead to investors losing everything. Experts often recommend that crypto investors only spend as much money as they can afford to lose, no matter which virtual currency they choose. In addition, altcoins may need extra caution, as they are very different from Bitcoin, both in terms of structure, supply, and features.
Bitcoin was born in 2009 with the original purpose of becoming a peer-to-peer financial system. Bitcoin's blockchain is carefully crafted with a carefully designed ecosystem. Bitcoin also has a limited supply, leading to an intrinsic scarcity. For this reason, Bitcoin is viewed by holders as a store of value and they also expect Bitcoin to become a leading decentralized digital currency in the future.
Most altcoins do not have such characteristics. While altcoins have the advantage of being the strength of the community, this advantage is also a weakness because such cryptocurrencies rely too much on that strength. Many altcoins are still lacking in technological development and there is no limit to the supply.
Because of the volatility and risk, "I have always said that cryptocurrencies are not the right investment for many people," Cook emphasized. "Altcoins with higher volatility are not a viable option for the faint of heart."
Of course, at the moment, no one can predict what will happen to Dogecoin and Shiba Inu. "Who knows? Maybe one day, a grandmother will give her grandchild a birthday gift of a few Shiba Inu," Bonaparth said. "The future of these two cryptocurrencies depends on whether they are widely accepted and adopted in the current financial system."
Date published: 07/11/2021